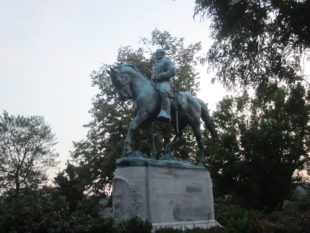 Target: Ralph Northam, Governor of Virginia
Goal: Support removal of statue that celebrates racist heritage.
The statue of Confederate military leader Robert E. Lee, which stands in former Confederate capital Richmond, Virginia, may soon be removed at the order of Virginia's governor. Protesters against racial injustice have often aired their grievances around Confederate statues that they firmly believe champion the racism that is a dark legacy of America's past. As reinforced in this ForceChange petition, for millions the Lee statue is not a monument to state history but a monument to the racial divides that still fracture this country and its ordered removal is a success to be celebrated.
The Robert E. Lee monument does not just glorify the individuals who fought to make slavery a permanent reality in the United States; this statue also glorifies traitors to the country. The Confederacy was an overt attempt by states to revolt against America and form a separate country with vastly different values. Surely those who become enraged at the thought of disrespecting the flag, the military, or the national anthem would not condone statues celebrating historical figures who in a sense committed the ultimate act of treason.
The history books are for preserving history, and the Confederacy's "contributions" unfortunately will not soon be forgotten. Monuments should be a celebration of our triumphs, not a testament to our worst nature. Otherwise, Germany would be full of statues "honoring" Adolf Hitler and the Nazi movement. The ordered removal of the Robert E. Lee statue is the most empathetic decision for citizens past and present who have already endured too much suffering.
Sign this petition to thank Governor Northam for making the right call.
PETITION LETTER:
Dear Governor Northam,
Thank you for taking steps to ensure Monument Avenue becomes a true testament to Virginia and to America at its best. Richmond is a diverse city, and no individual should have to pass daily by statues that invoke a time when too many citizens were considered "less than." No American city should dedicate a monument, a building, or a street to people who turned their backs on America and everything for which it stands.
The ordered removal of the Robert E. Lee statue will hopefully help turn a new page in this state's and this country's history. Please keep vigilant in this fight.
Sincerely,
[Your Name Here]
Photo Credit: Billy Hathorn