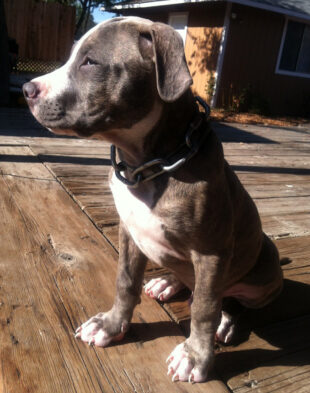 Target: Kay and Noble County, OK District Attorney Brian Hermanson
Goal: Find, arrest, and prosecute man for allegedly beating pit bull.
A pit bull was reportedly pinned down and punched multiple times in the face and head after the animal apparently tried to attack a puppy. Police are now searching for Blake Lee Tidwell, who is suspected of committing the crime. It is important he be held accountable for his actions if he is arrested and found guilty of this alleged animal cruelty.
The woman who reported the incident said she was walking her puppy when the dog that first appeared friendly attempted to attack her animal. It was reported that the dog's owner ran over and sat on her dog to try and prevent the issue from escalating. Tidwell then allegedly ran across the street, dragged the dog home, and started beating the animal. Although the dog walker apparently told him to stop, he reportedly responded by saying, "No, I'm going to kill it." Reports state that Tidwell picked up the animal by the collar and took the dog to the side of the house after repeatedly punching the animal. Police gave citations to the dog's owner and are now searching for Tidwell. Sign this petition to demand he be given the severest legal penalty if he is found guilty of this deplorable crime.
PETITION LETTER:
Dear District Attorney Hermanson,
An arrest warrant was provided for Blake Lee Tidwell after he was suspected of violently beating a pit bull. It is important that he is held accountable to the fullest extent of the law if he is found guilty of such heartless abuse. It was reported that Tidwell repeatedly punched the dog after he realized the animal had run across the street to attack a puppy while on a walk. The dog's owner allegedly ran over to lie on top of her dog to try and stop the attack.
Tidwell reportedly went to grab the dog after seeing the incident and dragged the animal back to the owner's house before aggressively beating the dog. When the lady walking the dog reportedly saw him continuously punch the animal in the face and neck, she yelled at him to stop. However, he allegedly said that his intent was to kill the animal. She therefore called police upon returning home, and the pit bull's owner was issued citations related to the alleged incident. They also plan to arrest Blake Lee Tidwell once they find him. We therefore demand you charge Tidwell for this alleged crime after he is arrested to make it less likely other animals will have to endure such disgusting brutality.
Sincerely,
[Your Name Here]
Photo Credit: Tattoodwaitress