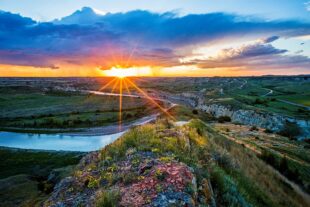 Target: Charles Sams, Director of the National Park Service
Goal: Protect Theodore Roosevelt National Park from pollution, climate change, and development.
Theodore Roosevelt National Park, one of North Dakota's most cherished natural landmarks, is facing an array of threats, including encroaching development, pollution, and climate change. This isn't just an environmental concern; it's a call to arms to protect a national treasure.
The park is not only a haven for diverse wildlife but also a living monument to the conservation ethos of President Theodore Roosevelt. Its degradation would be a loss for all Americans, not just North Dakotans.
Moreover, the park is a significant contributor to the state's tourism industry. Its decline could have a ripple effect, impacting local economies and community well-being.
Sign the petition to compel the North Dakota Parks and Recreation Department to initiate robust protective measures for Theodore Roosevelt National Park. These should include stringent zoning laws, pollution control, and active climate resilience strategies.
PETITION LETTER:
Dear Director Charles Sams,
Theodore Roosevelt National Park, a jewel in North Dakota's crown, stands at a precarious juncture. The park is under siege from multiple fronts: encroaching human development, pollution, and the looming shadow of climate change. The facts are undeniable: dwindling wildlife populations, increased pollution levels, and a park that's losing its natural luster.
We want immediate, transformative action. A comprehensive, actionable blueprint must be developed to protect this invaluable natural sanctuary. This plan should involve not just regulatory measures, but also active community participation in conservation efforts.
The stakes are monumental. Theodore Roosevelt National Park is not merely a tract of land; it's a symbol of the nation's commitment to conservation and a vital part of North Dakota's cultural and economic fabric.
Act with the urgency this critical situation warrants. Implement strategies that will not only protect the park today, but also ensure its survival for generations to come.
Sincerely,
[Your Name Here]
Photo credit: National Park Service