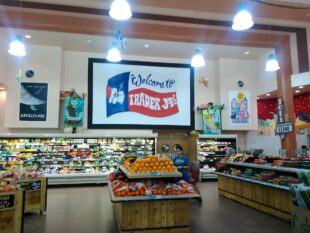 Target: Robert Califf, MD, Commissioner of U.S. Food and Drug Administration
Goal: Investigate series of recalls that put product quality of popular grocery chain into question.
Pieces of metal, rocks, and insects: these are some of the items reportedly contaminating recalled items at Trader Joe's. In just over a month's time, six items have been recalled. The products of concern include cookies, soup, crackers, and tamales. For the latest recall, around 1,700 packages containing possible food allergens were distributed in nine states.
Another of the company's products was recalled twice earlier in the year for potential links to Listeria and Hepatitis A illnesses. And the recalls did not end there. The store's coffee, salad, and candle products were also removed from shelves for possible glass fragments, allergen, and overheating threats, respectively. The recalls are troubling not only because of their increasing numbers, but also because most, if not all, of the products are sold under the Trader Joe's label.
Sign the petition below to call for a more thorough investigation into this food retail powerhouse that may be endangering consumers on multiple levels.
PETITION LETTER:
Dear Dr. Califf,
While product recalls are not uncommon, the rapid rise of recalls at Trader Joe's is cause for concern. According to these recalls, customers have potentially been exposed to allergens, glass, rocks, metal, insects, and bacterial infection. During the past five weeks alone, six products have been recalled.
This chain puts its name on many of its products, so it has an extra responsibility in adhering to the strictest quality control standards. As the regulatory agency responsible for America's retail food protection, please look further into this troubling trend and take any necessary measures to ensure the well-being of this influential grocer's faithful consumers.
Sincerely,
[Your Name Here]
Photo Credit: WhispertoMe