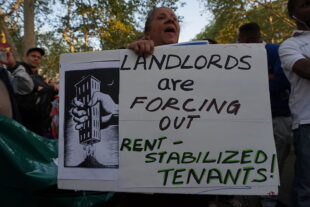 Target: New York Governor, Kathy Hochul
Goal: Limit the power of landlords and tackle New York City's growing housing affordability crisis.
As restrictions ease and pandemic related concerns wane, cities like New York, Miami and LA are experiencing higher than "pandemic normal" migration numbers. This heightened demand was not lost on New York landlords, where rents raised 33% between 2021 and 2022, at almost double the national rate, according to The New York Times. The pricing of non-regulated rentals are subject to the whim of their landlords, a dangerous circumstance whose ill effects are unfolding in real time. We need the rental-pricing safeguards outlined in the newly proposed Good Cause Eviction bill to protect existing tenants from being unjustly priced out of their homes.
U.S. single-family rent increased almost 11% in 2021, the fastest year to year increase in over 16 years, as yielded by CoreLogic Single-Family Rent Index. In New York's Upper West Side, rent increased 40% in comparison to the area's pandemic era prices. This fluctuation in price has left certain financially limited tenants without recourse; forcing some to enter into tense negotiations with their landlords and others to leave their properties entirely. As reported by The New York Times, some renters have been served lease renewals outlining six or eight hundred dollar per month rent increases. These tenants were instructed to either pay the new price, or search for other properties.
New York's Good Cause Eviction bill seeks to remedy this imbalance of power. The proposed law would limit landlords' ability to evict tenants, allow for automatic renewals under most leases, and require sufficient justification for rent increases greater than 3%. It would also set strict parameters regarding legal eviction and allow price increases more than the allotted 3% to be contested in court.
This bill proposes desperately needed protections to tenants who are increasingly growing subject to the whims of money hungry landlords. Sign below to demand support for the Good Cause Eviction bill.
PETITION LETTER:
Dear Governor Hochul,
Forty-three percent of all rental units in New York are non-regulated properties subject to the unreliable forces of the market and capitalist want. While pandemic concerns fade, landlords are driving up rent prices and strategically pricing out vulnerable tenants in the name of profit. New York renters need legal backing so that they may defend themselves against abusive housing practices which threaten their right to stable, fairly priced residency. We are in the midst of a homeless, housing and employment crisis and such abuses will only aggravate these circumstances. 
We demand that you stand with your constituents currently facing housing insecurity, eviction risks, and unjust, unaffordable rent increases and voice support for the Good Cause Eviction bill.
Sincerely,
[Your Name Here]
Photo Credit: The All-Nite Images