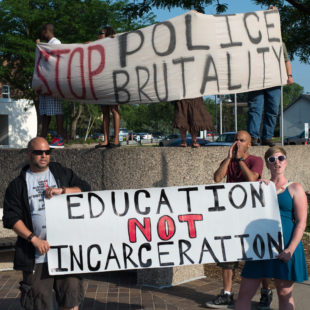 Target: John J. Flynn, District Attorney, Erie County, New York
Goal: Applaud the district attorney who charged officers with felony assault for reportedly shoving a 75-year-old protester to the ground.
The police officers who allegedly shoved the 75-year-old peace activist, Martin Gugino, to the ground and left him bleeding on the pavement have been charged with felony assault. The district attorney, John J. Flynn in Erie County, New York, told reporters, "We had two of our police officers who crossed the line." Details of the violent incident are found in this petition.
While awaiting their trial, the officers have been suspended without pay. This is a huge victory for the Black Lives Matter movement and the associated nationwide protests against rampant police brutality in the United States. Through the recent trend of cell phone videos, it has become evident that the police often use excessive force and inaccurately report incidents. For example, after Gugino was reportedly shoved to the ground, the police department claimed he tripped and fell. The video displays otherwise.
Police officers must continue to be held accountable and charged for brutality. Sign below to applaud district attorney John J. Flynn for bringing justice to the innocent man who was reportedly shoved by police.
PETITION LETTER:
Dear Mr. Flynn,
Your decision to charge the officers who reportedly hurt the 75-year old peace protester Martin Gugino is a huge step in the right direction toward reforming the police force and fighting police brutality.
Your decision is also a powerful symbol for the Black Lives Matter movement who are protesting against decades of police brutality in their community. I applaud you for bringing justice to Mr. Gugino by charging the officers who reportedly harmed him with felony assault.
Sincerely,
[Your Name Here]
Photo Credit: Fibonacci Blue