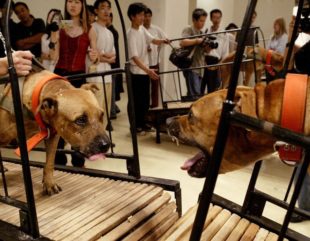 Target: Richard Armstrong, Director, Solomon R. Guggenheim Museum
Goal: Support the decision not to show controversial 'art' works that use animal cruelty to communicate their message.
Following much outrage from animal advocates, New York's Guggenheim Museum has announced its decision to shut down several 'art' displays that depict live animals facing off with one another. Thanks to petitions like this one, the Art and China after 1989: Theater of the World exhibit, which is set to open next month, will not include works such as Dogs That Cannot Touch Each Other (2003) and other 'art' that involves animal cruelty.
Dogs That Cannot Touch Each Other shows American pit bulls tied to wooden treadmills, running 'at' each other but unable to touch, as if they are being trained to fight. Another work to be pulled features live reptiles and insects 'devouring each other' inside a glass enclosure. This decision is a huge victory for animal rights. Sign below to support the choice not to give animal cruelty a place in artistic expression.
PETITION LETTER:
Dear Mr. Armstrong,
The decision to pull artworks depicting animal cruelty from the Art and China after 1989: Theater of the World exhibit is the responsible and ethical choice. Although "challenging and provocative artwork that seeks to examine and critique systems of power and control," as the Guggenheim called Dogs That Cannot Touch Each Other (2003), is to be valued and respected, it is no excuse for condoning cruelty to and exploitation of innocent animals.
Theater of the World (1993) and A Case Study of Transference (1994), which will also be pulled from the exhibit, are also examples of art that cause pain or stress to the animals involved, which the American Society for the Prevention of Cruelty to Animals clearly opposes. I support the removal of these works from the Guggenheim's exhibit.
Sincerely,
[Your Name Here]
Photo Credit: Sun Yuan and Peng Yu