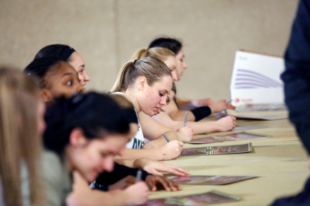 Target: Ed Lee, San Francisco Mayor
Goal: Applaud that San Francisco will provide free community college for all students.
San Francisco will be the first city in the U.S. to provide free community college for all students regardless of income, thanks in part to petitions like ForceChange's Provide Free Community College for All Students. Applaud this victory toward providing educational opportunities for low-income students.
California residents who live in San Francisco will now have access to free community college, allowing students who may normally not be able to afford school to attend without financial burden. It's estimated that 30,000 students will benefit, with the tuition money coming from an increase in the real estate transfer tax for properties valued at over $5 million.
Residents can be either part-time or full-time students, but must live in San Francisco for at least a year and a day to qualify for free tuition.
The majority of other developed countries offer free or reduced public education in order to ensure equal opportunity for all. San Francisco's decision is a step in the right direction toward empowering low-income and minority students with the same opportunities as their more fortunate peers. Applaud this historic decision that will help students in need.
PETITION LETTER:
Dear Mayor Lee,
I am writing to praise that your city will become the first in the country to provide free community college for all students. The free public education movement has gained popularity because we as citizens believe education must be a right for all, not just the privileged.
This decision will allow low-income and minority students who would have otherwise been barred from getting an education to achieve things that were previously out of their reach for financial reasons. Thank you for stepping up for your community and providing this opportunity.
Sincerely,
[Your Name Here]
Photo credit: COD Newsroom