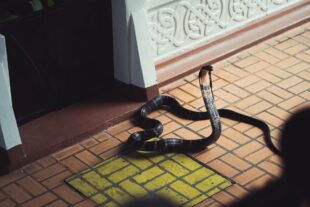 Target: Amit Shah, Home Minister of India
Goal: Enforce stringent legal action against the culprits of the venomous exploitation of wildlife.
The Gautam Buddh Nagar police have recently unearthed a harrowing case of wildlife abuse where serpents' venom was allegedly peddled at raves. Five individuals have been detained and accused of participating in a sinister syndicate. The visual of majestic cobras and pythons being misused for human revelry is disturbingly vivid and should stir any reader into action. The involvement of Indian television personality Elvish Yadav has been suggested, adding a layer of public interest to this appalling narrative.
The suspects, hailing from Molarband village, reportedly possessed venom extracted from endangered reptiles, which is not only illegal but a deplorable act of cruelty. These allegations strike a chord with anyone empathetic to the suffering of voiceless creatures. To think of the five cobras, a python, dual-headed snakes, and a rat snake subjected to such alleged torment is truly distressing.
Immediate action is demanded to ensure no further harm comes to these animals. The implicated parties must face legal consequences if found guilty. We call for rigorous investigation and due process to bring justice to these creatures and make an example to deter similar acts.
PETITION LETTER:
Dear Amit Shah,
The recent arrests in Gautam Buddh Nagar have shed light on a deeply troubling issue—alleged wildlife exploitation for venom in NCR. It's been reported that endangered snakes were used to extract venom for human consumption at parties. Such acts, if proven, are reprehensible and necessitate swift justice.
Details have emerged of cobras and pythons, animals that inspire awe and reverence, allegedly being subjected to such vile treatment. If the allegations hold true, it is not just an environmental crime but a moral failing that must be addressed. The community looks to you to uphold the law and ensure that these allegations are investigated with the severity they warrant.
We demand that those found responsible be held accountable to the full extent of the law. This case has the potential to be a watershed moment in the fight against wildlife exploitation. Let it not be said that those with the power to protect the voiceless stood by when action was needed.
Sincerely,
[Your Name Here]
Photo credit: Hendrik Schlott