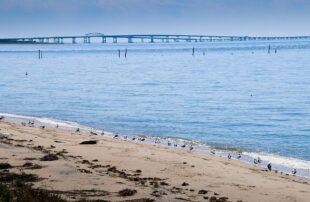 Target: Serena C. McIlwain, Secretary of the Maryland Department of the Environment
Goal: Curb industrial runoff pollution in the Chesapeake Bay.
Industrial runoff pollution poses an alarming threat to the Chesapeake Bay's delicate ecosystem. Excessive nutrient pollution, sedimentation, and toxic chemicals, discharged by industries, jeopardize the bay's health. These pollutants fuel harmful algal blooms, deplete oxygen levels, harm aquatic life, and compromise water quality.
While well-intentioned, Maryland's current regulatory framework falls short of controlling this menace. Insufficient enforcement and lenient standards have allowed industrial facilities to continue polluting the bay, undermining conservation efforts.
Regulatory measures must be bolstered to secure the Chesapeake Bay's future. Stricter controls on industrial discharges, enhanced monitoring, and rigorous enforcement are essential to mitigate the devastating impact of industrial runoff.
Sign the petition below to demand the Maryland Department of the Environment take immediate action by implementing and enforcing stricter regulations on industrial runoff, safeguarding the Chesapeake Bay's ecological integrity for generations to come.
PETITION LETTER:
Dear Secretary McIlwain,
The Chesapeake Bay, a natural treasure of immeasurable value, is under grave threat from industrial runoff pollution. This perilous contamination, laden with nutrients, sediments, and toxins, severely damages the bay's fragile ecosystem.
Current regulations, though well-intended, have proven inadequate in curtailing industrial pollution. The consequences are dire: rampant algal blooms, oxygen depletion, harmed aquatic life, and compromised water quality.
We implore you to act decisively to protect the Chesapeake Bay's ecological vitality. Stricter regulations, meticulous monitoring, and unwavering enforcement are paramount. We cannot afford to delay. The fate of this invaluable natural wonder hangs in the balance.
Sincerely,
[Your Name Here]
Photo Credit: Ole Bendik Kvisberg