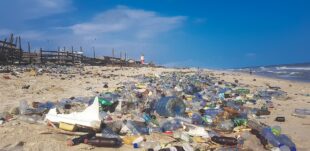 Target: Pete Buttigieg, the U.S. Secretary of Transportation
Goal: Reduce plastic pollution by incorporating waste into asphalt.
Each year, 100 million marine animals die due to the disposal of plastic. In 2021 alone, 40 million tons of plastic was disposed of within the U.S. Nearly 85% went into landfills, harming not only marine animals, but also wildlife in surrounding environments. Wildlife habitats are littered with plastic cups, bags and more, contributing to the destruction of their homes and well-being. When not properly disposed of, plastic and other harmful materials are littered along highways and waterways.80% of sea pollution is a result of plastic. No amount of environmental clean-up has saved marine life from the risk of plastic and other harmful materials. Organizations are beginning to promote using plastic to create asphalt for U.S. roadways. This would not only reduce the overall plastic pollution, but it would also be more durable and cheaper than normal asphalt. The manufacturing process in creating these roadways would also reduce the emission of greenhouse gasses and carbon in comparison to other processes.
Plastic roadways will overall benefit marine animals and help save their dwindling species. Pollution is riddled across the world, and the switch from normal asphalt to plastic asphalt can help reduce America's overall pollution rates. Littered plastic can be retrieved and utilized for a sustainable cause, preventing further harm from all wildlife that can come in contact with it.
With marine animals being harmed by plastic in waterways, reducing it can help their populations grow, as well as that of other wildlife negatively impacted by pollution. Sign the petition below to urge Secretary Buttigieg to implement plastic asphalt in U.S. roadways to benefit marine life and the overall environment.
PETITION LETTER:
Dear Secretary Buttigieg,
With a majority of sea pollution coming from plastic, this dangerous material must be utilized in a sustainable fashion. Utilizing plastic asphalt is a durable and affordable way to reduce overall pollution. This process decreases the amount of toxic gas being emitted into the environment and prevents wildlife from being harmed by littering.
Tons of plastic is disposed of daily, and recycling these materials into an ecological source will improve Earth's atmosphere and the biosphere around the world. If plastic disposal is not halted, millions of wildlife will continue dying because of this harmful material.
I urge you to promote plastic asphalt to use in the making of roadways. This alternative option is an environmentally-friendly way to turn the access of plastic into a beneficial source of transportation. It will benefit the environment and all that comes with it, helping to save the Earth one step at a time.
Sincerely,
[Your Name Here]
Photo credit: Muntaka Chasant