Target: President Joe Biden
Goal: Support young people fighting desperately for a livable planet.
From record-setting heat waves on every inhabited continent, to supercharged hurricanes, to drought conditions affecting much of the Western United States, the world has experienced the climate crisis in unprecedented ways this past year. Climate change caused by burning fossil fuels and other human activities endangers billions of people and the survival of countless animal species. However, in the face of this existential threat to our planet a mass grassroots movement led by young people has risen up to fight back.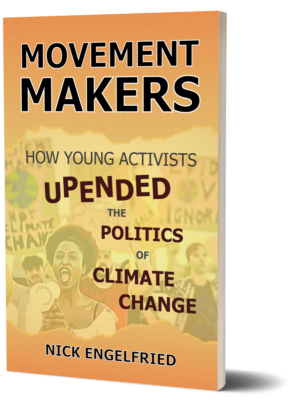 As a writer and managing editor at ForceChange, I know people power can win amazing victories even against some of the world's most powerful corporations. And when it comes to confronting the climate crisis nothing gives me more hope than the youth climate movement, which has grown into a true mass uprising over the last several years. That's why I wrote Movement Makers: How Young Activists Upended the Politics of Climate Change, the first book to take a comprehensive look at over two decades of climate movement history in the United States. It was released this fall, and I hope the stories of young people's bravery and creativity recorded in its pages serve as a useful resource for activists everywhere who care about preserving a stable climate.
From organizing massive climate marches, to advocating for a Green New Deal, to leading the charge for fossil fuel divestment at universities, youth activists are taking on the fossil fuel industry and winning. If studying and writing about their inspiring work has taught me anything, it's that a vibrant, powerful grassroots movement led by young people and supported by activists of every age represents our best hope for a livable future. Sign the petition below to express your support and solidarity with the youth climate movement today.
PETITION LETTER:
Dear President Biden,
The climate crisis is perhaps the most dangerous existential threat ever to confront humanity–yet in the face of this unprecedented catastrophe, young climate activists have acted more like responsible adults than have world leaders. Youth-led movements like the Fridays for Future climate strikes, the push for a Green New Deal, and fossil fuel divestment campaigns point the way toward the clean energy future we must embrace. What is needed is an economy-wide shift to renewables and other sustainable technologies, as anything less will fail to prevent worsening climate change from killing billions of people and wiping out thousands of plant and animal species.
We call on your administration to do everything in its power to support the demands of youth climate organizations and secure a livable world for this and future generations.
Sincerely,
[Your Name Here]
Photo credit: Fabrice Florin