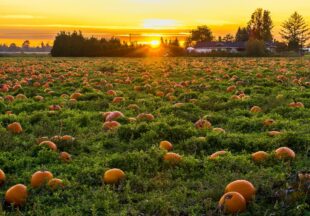 Target: Tom Vilsack, Secretary of U.S. Department of Agriculture
Goal: Support no-till farming as means of addressing environmental and supply challenges of traditional crop farming.
Pumpkins are a staple of Halloween and fall as a whole, and this year has seen a rise in prices amidst a supply shortage. Conservation farming practices could benefit these and other depleted crops while helping the environment as well. One method in particular is gaining a scientific seal of approval.
The Soil Science Society of America recently published a study touting the helpfulness of organic no-till farming on pumpkin production. This form of primitive farming foregoes traditional tilling, which has been associated with extensive soil degradation. In no-till farming, soil disturbance is kept to a minimum. It also utilizes allies like cover crops to naturally promote weed suppression and soil enrichment. In addition, less potentially harmful fertilizers are needed and less soil is eroded, helping prevent runoff and associated pollution. The farmer benefits by saving costs on equipment, supplies, and time.
Despite its many positives, this win-win approach has still not gained a solid footing in the United States. Sign the petition below to urge agriculture leaders to invest in this time-tested method.
PETITION LETTER:
Dear Secretary Vilsack,
Carbon sequestration, weed suppression, soil erosion prevention, and fertilizer reduction: these are just some of the benefits of no-till farming. It's a method with deep roots in history, but not such a deep history in America. Yet according to an increasing chorus of experts, it could pave a positive path forward for U.S. agriculture. At a time when challenges like the economy and global warming are wreaking havoc on this essential sector, a new approach is a welcome sight.
Please launch a major initiative to educate the public about no-till farming and to invest the time and resources that could launch this next great agricultural revolution.
Sincerely,
[Your Name Here]
Photo Credit: James Wheeler