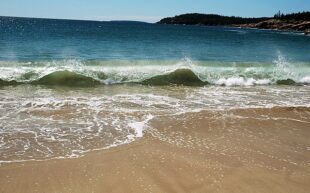 Target: Melanie Loyzim, Commissioner of the Maine Department of Environmental Protection
Goal: Increase the amount of public beach access in Maine to boost tourism and local morale.
Coastline in the United States is a fixed resource; it cannot grow or be expanded as a result of human intervention. Nonetheless, the State of Maine acknowledges that only 12% of its beaches are accessible to the general public. This is not adequate for the 1.3 million people living in the state, and even tourists, many of who find themselves flocking to coastal Maine in the summer. Consequently, these tax payers and tourism financers must fight crowds and private land owners to find time for enjoying a significant, but intentionally limited, mass of land where they live and visit.
On the Commons magazine has broken the news that half the population of the U.S. lives within 50 miles of the coast, yet 70% of this land is privately owned. For the relatively small Pine Tree State which has more general coastline mileage than California, that means exploring east may not be an option. This issue is much larger than just in the North East, but it doesn't mean Maine can't lead by example.
While not all private owners of ocean views are quick to let locals and passers by cross their land, a few have been kind enough to open their grounds to all who share an appreciation for the unique terrain and Atlantic views in the state. And what else have they agreed on besides some public access? It's more beneficial for society to share the resource than to keep it locked up from the rest of the world.
Sign the petition to encourage Maine DEP Commissioner Melanie Loyzim to support opening up Maine beaches to the public.
PETITION LETTER:
Dear Commissioner Loyzim,
Despite the few thousand miles of general coastline in your state, only a very small minority of Mainers have unrestricted access to the shore, one of the most beautiful landscapes in New England. Locals and tourists alike flock to enjoy and appreciate this natural resource but most compete with each other for a chance, if one even presents itself, to visit the beautiful beaches and cliff-laden coast.
The only solution is to disallow many of those dwelling on the coast from absolute restriction of access. This means more lateral access to shorelines as well as increasing the number of public access points. Mass landowners along the shore cannot own a resource so limited that the population may never enjoy it. Additionally, as sea levels rise and reduce buffers between houses and the sea, boundaries for public access will need to be clarified to ensure everyone else can continue to enjoy public beaches that already exist without disturbing residences who live above the tide line.
The residents and visitors of beautiful Maine urge you to increase public access options to the state's coastline and protect those resources that already exist from coastal changes caused by climate change. It is the only way Maine continues to be a gem for all in the North East and beyond.
Sincerely,
[Your Name Here]
Photo credit: James St. John