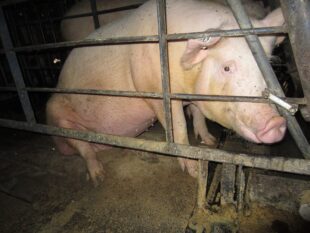 Target: Tom Vilsack, United States Secretary of Agriculture
Goal: Demand stricter regulations on antibiotic administration on factory farms throughout the U.S.
More than half of all antibiotics distributed in the U.S. are administered to farm animals, rather than people. Many antibiotics used are to prevent and control common diseases, enabling animals to be kept in filthy, overcrowded conditions, where disease would typically run rampant, with little to no access to veterinary care. Animals, like chickens and turkeys, are forced to live among their own feces and corpses of dead birds are left to rot in cages and barns where tens of thousands of other animals are kept. This consistent exposure of farm animals to bacterial contaminants means that they are constantly at risk of developing some disease or another. Antibiotics are also used among farm animals such as chickens and pigs to rapidly and unnaturally increase growth. With the use of antibiotics, animals can grow to more than double their normal size, resulting in a whole slew of health problems as well as difficulties walking or even standing upright.
Overuse and misuse of these antibiotics has also spurred concerns for animal and human health. Populations of antibiotic-resistant bacteria—also called superbugs—have developed in large quantities, surfacing themselves all over the world. These bacteria, as the name suggests, cause infections that are untreatable by common antibiotics and, in many cases, can be fatal for hosts. Superbugs are easily transmitted to humans either through direct contact with or consumption of infected livestock. As these bacteria have also been turning up in rivers and public waterways near factory farms across the USA, Canada, Spain, and Thailand, it is possible that transmission may also occur by means of contaminated drinking water. Human infection has increased tremendously in recent times, and even among young, healthy Americans have faced the dire consequences of deadly, resistant strains of MRSA, CRE, strep, candida auras, etc. We must step in and take action before this problem escalates even further.
The factory farming industry has long affected animal and environmental health and, now, even human health might have to suffer the disastrous consequences of these unsanitary and heinous practices. Sign this petition to demand that the U.S. government better regulate the use of antibiotics in livestock populations and to encourage legislators to improve welfare standards on factory farms across the country.
PETITION LETTER:
Dear Secretary Vilsack,
Animals on factory farms across the U.S. are inundated with antibiotics, with more than half of our national antibiotic supply used to prevent and control common diseases in livestock populations rather than in humans. This allows farmers to keep animals in horrendous conditions—confined with hundreds of thousands of others, living among their own feces and the rotting corpses of dead animals, without any access to proper veterinary care—where disease would typically run rampant. Antibiotics are also used on animals to rapidly increase growth, forcing animals to grow upwards of two to three times their natural weights. Animals, as a result, suffer from series of painful health conditions—such as arthritis and weakened joints—and are often unable to walk or even stand upright.
Misuse and overuse of antibiotics has allowed for the cultivation of new populations of antibiotic-resistant bacteria, which cannot be treated by any modern medicines. These bacteria—also referred to as superbugs since they are, as far as we are concerned, indestructible—even afflict totally healthy, young people, causing intense sickness and in many cases, death. Something of 700,000 people die a year from superbugs. The number is only expected to rise and, by the year 2050, scientists predict that the superbug epidemic will kill millions.
Due to the cramped and dirty confines in which farmers keep their animals, antibiotic-resistant bacteria strains easily pass from one animal to another. These bacteria are just as easily transmitted to humans, whether it be through direct contact with infected livestock, the consumption of infected meat, or contact with contaminated air or soil. Superbugs have also been found in many public lakes and waterways near factory farms throughout the world, and this contamination of our drinkable water sources is yet another point of transmission.
The spread of antibiotic-resistant bacteria could easily be prevented if only farmers were to improve living conditions for their animals. We are asking you, Mr. Vilsack, to please enforce stricter regulations on antibiotic administration on factory farms throughout the country. We do not need another pandemic on our hands.
Sincerely,
[Your Name Here]
Photo Credit: Mercy For Animals MFA