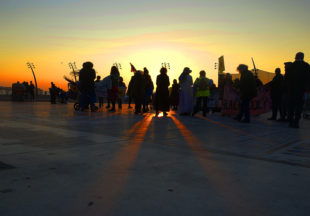 Target: Andrea Leadsom, UK Secretary of State for Business, Energy, and Industrial Strategy
Goal: Praise the temporary banning of fracking in the United Kingdom.
Fracking has been temporarily banned in the UK, giving environmentalists and those who signed this ForceChange petition a reason to celebrate. The moratorium was imposed in response to a report issued by the UK Oil and Gas Authority (OGA). It described that agency's doubts about the practice, the unpredictability of earthquakes in areas affected by fracking, and a host of well-known risks associated with it, including groundwater poisoning, sinkhole development, and the release of noxious gases and fumes.
While this is a temporary ban, based on the condition that the practice be halted until conclusive evidence is provided to bolster claims about its safety, it is nonetheless a landmark moment in environmental history, both for Britain and the world. Given the inherent unsafety and destructiveness of fracking, it is likely that the brutal practice may never again be legal in the United Kingdom.
This incredible victory will prevent the further waste of public funds, of which £32 million have already been squandered, while boosting faith in the environmentalist groups, grass roots campaigns, and local democracy actions which made the anger of ordinary Britons plain to the national government in London.
Add your voice to those congratulating Ms. Leadsom for her laudable u-turn on fracking and ask that she hold fast to this admirable new course.
PETITION LETTER:
Dear Minister Leadsom,
I am writing to you today to offer my heartfelt congratulations for your government's decision to ban the practice of fracking in the United Kingdom. I understand that such a momentous change in your government's energy strategy could not have been an easy decision to make, and we applaud you for listening to the voices of those citizens whose livelihoods, health, happiness, and safety would have been put at grave risk.
We urge you to remain true to this new direction, and to continue to make greater efforts to place the concerns and the needs of ordinary people above those of the callous and destructive businesses that would have gladly destroyed British wildlife and homes in blind pursuit of profit.
While this is a tremendous success both for democracy and for the planet, much work remains to be done, and we ask that you continue to capitalize on this great victory by further ensuring the protection of the environment and of people everywhere.
Thank you for this great victory in defense of our planet and all who live on it.
Sincerely,
[Your Name Here]
Photo credit: 70023venus2009