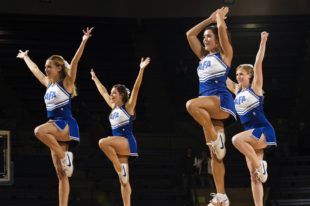 Target: Tom Boasberg, Denver Public Schools Superintendent
Goal: Thank superintendent for removing cheer coach accused of physically and emotionally abusing young teens on his team.
The Denver high school cheer coach who allegedly forced teenage cheerleaders to do splits against their will, causing injury to their bodies, has been fired. Police are now investigating Ozell Williams. This is the second time Williams has been fired from the school district for this offense.
His firing comes after public outrage. A petition here on ForceChange demanded he be relieved of his coaching duties. Williams clearly did not have the ability to successfully coach young students in a stable, safe, and comfortable environment.
Sign the petition and thank Superintendent Boasberg for removing Williams from his coaching duties. Williams has no place in a school.
PETITION LETTER:
Dear Mr. Boasberg,
Thank you for removing Ozell Williams from his position as cheer coach in your district. The cell phone video of his alleged abuse toward teenage girls in your district is disturbing and shows that Williams has no place in a school and no place as a coach for athletes of any age.
The girls in your district were allegedly abused by Williams and forced into an uncomfortable situation. There are still many wrongs to be righted, but thank your for taking the first step.
Sincerely,
[Your Name Here]
Photo Credit: skeeze