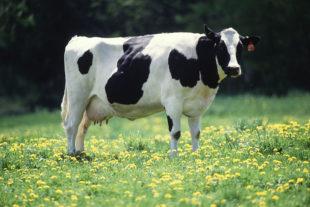 Target: Robert Gunnell, Judge in the Provincial Court of British Columbia
Goal: Applaud decision to convict farm owners for allowing employees to abuse cows.
The owners of a dairy farm where employees allegedly abused cows have pled guilty and have been sentenced to pay $75,000 per count of abuse, the maximum monetary fine. One of Chilliwack Cattle Sales' owners, Wesley Kooyman, was also convicted of another count of animal abuse, and he will be prohibited from having control over his factory farm or owning any animals for a year.
Judge Robert Gunnell, who handed down the ruling, said that the employees were not properly trained or supervised by the farm owners, resulting in the significant abuse the cows suffered. Wayne Kooyman would allegedly only check on his employees once a day, at 3:30 in the morning, and so the employees could easily hide their abusive behavior. As soon as the owners left, they would reportedly go back to beating the cows, kicking them, and hanging them from chains around their neck. The workers allegedly responsible for the abuse will go on trial in May.
This victory for farm animals is a result of tireless work from animal advocates, including members of the ForceChange community who signed petitions like this one. While the ruling cannot erase the abuse the cows faced, it will prevent more animals from needlessly suffering at the hands of cruel humans. Sign this petition to thank Judge Gunnell for standing up for these dairy cows.
PETITION LETTER:
Dear Judge Gunnell,
Thank you for your recent sentencing of the owners of Chilliwack Cattle Sales. Your decision to fine the owners the maximum monetary amount allowed for their crimes shows that this type of animal abuse will not be tolerated in Canada.
The cows at Chilliwack Cattle Sales allegedly faced heinous acts of abuse from six employees who beat them, kicked them, and pulled hair out of their tails. The employees also reportedly hung the cows by chains from their necks and dragged them with a forklift. The employees were apparently able to get away with this because they were so poorly trained and supervised by the owners of Chilliwack.
The decision to convict Chilliwack's owners of animal abuse was the right choice, and it can help prevent future employees from abusing cows on their farm. Thank you for standing up for the dairy cows who faced unfathomable cruelty.
Sincerely,
[Your Name Here]
Photo Credit: Keith Weller