Educational Series: Animal Welfare Act Saves Creatures in Need
By Nick Engelfried
On a summer evening in 1965, a Dalmatian named Pepper disappeared from the farm where she lived with her loving human family, the Lakavages. She was never to be seen again by the Lackavages, who had adopted her from a nearby kennel. Pepper had thrived in her new home, where she played with the Lakavage children and their other dogs. On a property with many pets she was a favorite with her human caretakers–until the day she vanished.
The Lackavages searched frantically for Pepper for weeks, eventually determining she had likely been picked up by one of the roving animal dealers who in those days would search the streets and countryside for stray animals to sell to research laboratories. Some dealers were none too concerned about whether all the animals they captured were actually strays–and it wasn't uncommon for them to seize pets. Pepper was apparently snatched up by one of these individuals. Later detective work determined she died in a laboratory during an experiment where researchers tried to implant a pacemaker into her body.
Pepper's tragic death sparked national outrage after the story of the Lakavages' ordeal was published in a Sports Illustrated news article. For years animal advocates had been trying to get Congress to pass a federal law protecting pets and other animals from abuse by laboratories. Pepper's story and the publicity it received helped finally persuade lawmakers to take action. In 1966 Congress passed the Laboratory Animal Welfare Act, the first law of its scope to put in place rules for protecting animals from abuse.
The 1966 law, later renamed the Animal Welfare Act, remains one of the most important policies governing the treatment of animals today. It has been amended several times over the decades. While some amendments strengthened the original law, it's important to note that it still falls well short of covering all or even most animals used by agriculture, laboratories, and other institutions. Still, even as incomplete as it is, the Animal Welfare Act stands as one of the animal rights movement's most important accomplishments to date.
The 1966 Laboratory Animal Welfare Act applied to only a very specific set of animals: cats, dogs, guinea pigs, hamsters, rabbits, and nonhuman primates. It was mainly concerned with ensuring these animals were kept in humane conditions by dealers and others holding them prior to them being used by laboratory researchers. The act required that facilities working with these animals be licensed, and put in place procedures to ensure they were obtaining their animals legally. A major goal of the law was to prevent cases like Pepper's, where pets were illegally snatched from their homes and sold to labs.
While it represented an important first step for animal protection, this earliest version of the Animal Welfare Act was severely limited. For one thing it applied only to a small number of species. For another, it dealt with animals only in very specific circumstances. Animals used for purposes other than research were not covered–and ironically, neither were research animals once they were on the lab table. The law only applied to these animals while they were being held prior to being experimented on. Accordingly, animal advocates kept pushing to strengthen the act.
Amendments passed to the Animal Welfare Act in the 1970s helped improve the law. The changes broadened the act's scope to include animals at certain facilities besides laboratories, including those that keep dogs for security or hunting purposes. It also expanded the definition of species covered under the law to include all warm-blooded animals. Despite this the USDA–the department charged with implementing the Animal Welfare Act–wrote its regulations in such a way that birds and some rodents were effectively excluded from protection.
Further improvements took place in 1985, when additional amendments to the Animal Welfare Act were included in that year's Farm Bill. These latest changes required animals being actively used in experiments receive at least some minimal level of protection from unnecessary harm. They established oversight of laboratories, mandated twice-annual lab inspections, required that alternatives to animal use in experiments be considered, and ensured dogs used in research were allowed to exercise. The amendments also expanded the act to cover facilities like zoos where animals are kept for educational purposes.
One last set of major amendments to the act occurred before the end of the twentieth century, in 1990. These changes required that pounds, shelters, and laboratories hold dogs and cats for a minimum of five days before selling them to dealers or using them for research purposes, giving owners a chance to claim their pets should they accidentally end up in such a facility despite the safeguards put in place to prevent cases like Pepper's. Had this legislation been in place in 1965, Pepper's family would likely have been able to find and claim her before she ended up in a laboratory.
Early in the twenty-first century, the Animal Welfare Act was amended again–but this time it was weakened. For many years animal rights groups had been fighting to get the the FDA to enforce the 1970 amendment which made it apply to all warm-blooded animals. In 2000, these groups won a victory when a lawsuit forced the FDA to agree to protect birds and all rodents for the first time. However, this progress was short-lived. In response to the agreement, in 2002 Congress passed a new amendment officially excluding birds, rats, and mice. To put this in perspective, the amendment meant 95% of animals subjected to experimentation in labs would not be protected by the act.
In fact, while the Animal Welfare Act now protects many more animals than it did when the first version of the law passed in 1966, its greatest weakness is still that the vast majority of animals used by people in the U.S. are not covered under any of its provisions. In addition to the exceptions for certain lab animals, the law does not apply to animals raised for agriculture. This glaring hole in the act's effectiveness means the millions of cows, pigs, chickens, and other animals used by the meat, egg, and dairy industries receive no protection at all.
Still, if there's one lesson from the story of the Animal Welfare Act, it's that positive change often happens incrementally. Additional improvements to the law continue to made, with amendments in 2008 increasing the penalties for certain violations. While we can't know for sure how the law might be amended in the future, in the past major progress has only been made because of intense public pressure and the advocacy of thousands of people.
Just as outrage over the fate of Pepper led to legislation that would become the original Animal Welfare Act, so public advocacy can continue moving us toward a brighter future for animals. When enough people get involved in the political process on behalf of animals, the result is a more humane, just world for millions of sentient beings.
Photo credit: viganhajdari
Wait, there's one more step:
Over 1,058,360 Animal Shelter Meals Donated So Far –
Upgrade to a Premium Membership to get a free Animals Are Earth's Greatest Treasure shirt, feed shelter animals with the Educational Series and Meal Wheel, sign 100's of petitions with one-click, remove ads, and promote your favorite petitions to millions!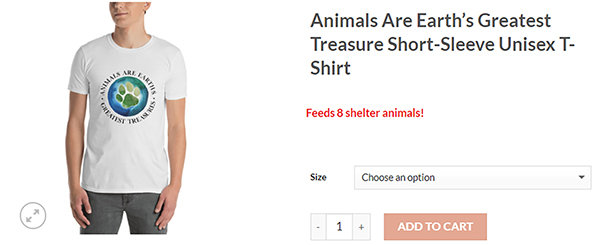 7 day money-back guarantee for new members. Zero risk.
Premium Membership comes with the following perks:
• Get a free Animals Are Earth's Greatest Treasure shirt.
• Feed shelter animals by spinning the Meal Wheel.
• Sign 100's of petitions with one-click.
• Feed shelter animals with the Educational Series quizzes.
• Ad-free browsing and voting on which petitions are displayed to millions of people.
Our Guarantee:
Cancel your subscription for any reason within 7 days and we'll refund 100% of your money, as long as you're a first time member.
Frequently Asked Questions:
How are the animal shelter meals donated?
We donate shelter meals through Rescue Bank because they research all shelters, maintain equitable distribution, and track the meals from their facilities all the way to the rescue groups. This ensures that the donation will be utilized in the most efficient and impacting way.
Why don't we just donate meals without providing any perks like the Meal Wheel?
We've been at this since 2008 and have learned that to really make a difference, we need to get people excited and engaged. Our mission is a serious one, but our methods are playful and educational. We're serious about doing good, but also want to make it fun.
Who are we?
We are a family of sites that works to protect animals, the environment, and more. Our sites include AnimalPetitions.org and ForceChange.com. We've been at this for over a decade and are dedicated to protecting and defending animals and the environment. If we can have some fun and improve the world, then we're accomplishing our goal!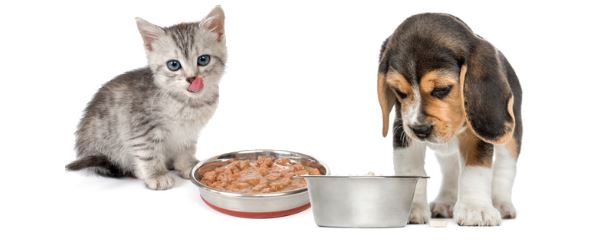 We've Been Doing This for Over a Decade and Others Have Taken Notice:
Testimonials:
"Thank you SO much for the premium feature of being able to sign multiple petitions with one click. Many of us go for hours at a time signing each and every petition and crying as we read them. I have often wished for a way to sign my name on every petition because I passionately support them and they all need our voice. This is the best thing – thank you very much!" -Karilyn K., Premium Member
"This is just the most amazing wonderful service that makes me so happy! To be able to feed shelter pets is just the greatest feeling. Thanks again for this, and for all you do for the most innocent and helpless among us, the animals. I'm lovestruck." Sandra Z., Premium Member
"I love the upgrade option and I am so glad I did it.....it enables me to stand with you and many others to fight for the justice these precious souls deserve! We are their voice!!!! And....I adore helping to feed them as well! The spin the wheel game is fun....and I like doing it everyday to help! Keep up the wonderful work....and I know....every click makes a difference!" Dorothy B., Premium Member
"I am so excited to become a Premium Member and to have one-click signing, as I was spending countless hours signing petitions...not that I mind doing it, but my goodness, there sure are a lot of them. I always hope that my signature somehow helps, because these people that abuse/torture animals, need to be put away. As you can tell, that is my passion, I have such a heart for animals, and I want to be their voice." Darlene R., Premium Member
"Thank you so much! I love being a premium member and spinning that wheel every day, especially when I land on 4 or, best of all, 5 meals. Thank you for all you do, we are all so grateful for you." Sandy T., Premium Member
"With deepest Aloha, You have no idea how grateful I am for you!" Jan L., Premium Member
"Thank you for the Premium Membership option. I really appreciate that I can sign multiple petitions with one click. It's great! Thank you for the work you do." Ashley H., Premium Member
"I absolutely love the Educational Series!" Yvonne L., Premium Member
"I am a premium member and religiously sign every petition. THANK YOU for this platform. I also vote for the petition nearest my heart, sometimes voting globally, sometimes I am caught by an individual animal's plight. What gives me great pleasure is noting that almost always, the percentages have no more than a 6-7% spread. It means that, overall, everyone cares about all of the petitions ALMOST EQUALLY! LOL, I also spin that wheel, and when I get 4 or 5 meals, I dance around the room! I have long maintained that what someone does to a helpless animal, they will do to a weaker human if they think that they can get away with it. Those who abuse, no matter how many legs their victims have, should be punished to the fullest extent of the law." Rebecca E., Premium Member
"I LOVE LOVE LOVE my Premium Membership! Everything and anything I can do to help animals and contribute to justice in the world makes me very happy!" Jan L., Premium Member
---
Still have questions? Email us: organize@forcechange.com
Nick Engelfried Writes About Animals, the Environment, and Conservation for the ForceChange network