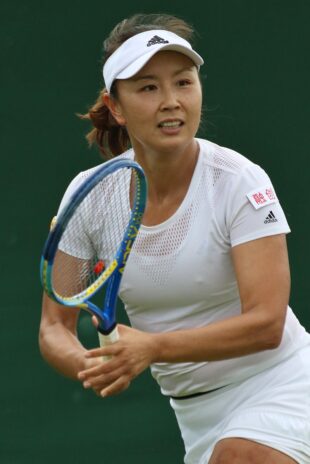 Target: Tang Yijun, China's Minister of Justice
Goal: Investigate alleged disappearance and accusations of tennis athlete Peng Shuai.
A Chinese tennis star created a stir when she accused the country's former vice premier of sexual assault on social media. Shortly thereafter, the story took an even darker turn. The athlete's posts were scrubbed from social media in China, and she soon disappeared from public view. In spite of repeated inquiries about her whereabouts from outlets like the Women's Tennis Association (WTA), no one has apparently spoken to the 35-year-old since her allegations.
Athletes and advocates from around the world have called on China to allow their star to speak publicly and to confirm her safety. The head of the WTA has also asked for an investigation into the allegations. He said, "Peng Shuai, and all women, deserve to be heard, not censored. Her accusation about the conduct of a former Chinese leader involving a sexual assault must be treated with the utmost seriousness. In all societies, the behavior she alleges that took place needs to be investigated, not condoned or ignored."
Sign the petition below to show your support for an investigation and to end the possible censorship and punishment directed at a woman speaking out for justice.
PETITION LETTER:
Dear Minister Yijun,
Tennis star Peng Shuai has recently garnered headlines not for her athletic accomplishments but for a much more concerning reason. This woman has reportedly disappeared following serious sexual assault allegations made against Zhang Gaoli. This turn of events is incredibly troubling not only for the tennis world but for anyone who believes potential victims must be heard.
Shuai's abrupt removal from public view, combined with the lack of any investigation of her allegations, sends an ominous message to the world about the power imbalances and gender biases that have enabled violence against women for too long.
Give one of your most shining talents an opportunity to be heard free from censorship or retribution and demonstrate that you value women and justice. Honor the calls for an investigation.
Sincerely,
[Your Name Here]
Photo Credit: Si.robi