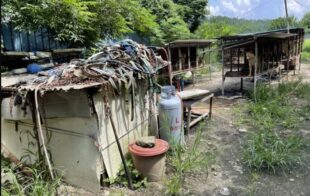 Target: South Korea President Moon Jae-in
Goal: End the horrific practice of dog meat farming in South Korea.
A haunting photo shows dozens of empty collars belonging to dogs that were apparently slaughtered at a meat farm in South Korea. Each collar seems to represent a different dog that was imprisoned for years in a tiny cage, fed garbage for food, and then electrocuted to death in front of their fellow creatures. It is time for the nation of South Korea to end this horrific practice.
The farm in question was owned by a local restaurant owner, who would allegedly raise and slaughter the dogs for meat that he would then sell at his establishment. The dogs were apparently held in filthy wire cages and were denied basic care.
The dogs were all of the Jindo breed, which is considered the national dog for South Korea. Jindos are native to the island that the meat farm was located and the owner had apparently spent the past 20 years breeding and slaughtering animals from this breed.
Local residents had apparently reported hearing dogs crying in terror on the farm.
PETITION LETTER:
Dear Moon Jae-in,
An apparent dog meat farm was recently shut down in your country. At the farm, over the past 20 years, countless dogs have reportedly lived miserable lives and faced terrifying ends. While the farm has been shut down, it was closed based on a technicality. Shockingly, dog meat farms are still legal in South Korea.
While every country has different cultures which should be respected, some values are universal. To that end, I hope that you will work to pass legislation in your country that prohibits the farming and slaughter of dogs.
No animals deserve to live or die the way these dogs did. Their cries of terror were apparently reported by local residents and the image of the stack of empty dog collars is haunting.
Sincerely,
[Your Name Here]
Photo credit: Humane Society International