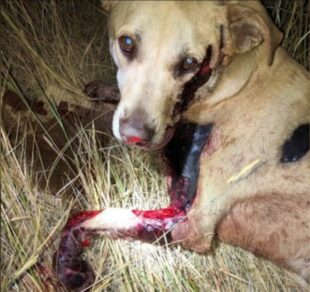 Target: Marty Lambert, Gallatin County Attorney
Goal: Find and prosecute person who tied dog to bumper and dragged him down street.
A dog named Marley was tied to the bumper of a car and dragged a half mile down the road in Bozeman, Montana. Law enforcement was alerted to the incident when a witness reported seeing a dog being dragged down the street while tied to a bumper. The witness asserted that the dog was only freed from the car when his collar disintegrated, thereby releasing the poor animal.
Gallatin County Sheriff's deputies responded to the call and discovered Marley lying in a ditch covered in blood. As the deputies approached Marley, he lifted his head and showed signs of life. Marley was taken to a local veterinarian where he received emergency medical care.
Incredibly, even though Marley's injuries were substantial, he is expected to recover. Authorities have not yet found the person(s) who was responsible for this horrendous act.
PETITION LETTER
Dear Marty Lambert, Gallatin County Attorney,
Recently, a dog named Marley was discovered lying in a ditch, covered in blood. It is believed that Marley had been tied to the bumper of a car and dragged a half mile down the road. The poor animal was only freed when the collar he was wearing disintegrated during the incident.
While it appears like Marley will recover from this trauma, the person, or persons, who did this horrific act are still at large. I ask that you please devote the maximum amount of resources necessary to find and prosecute those responsible for this abuse, to the fullest extent of the law.
Sincerely,
[Your Name Here]
Photo credit: Gallatin County Sheriff's Office