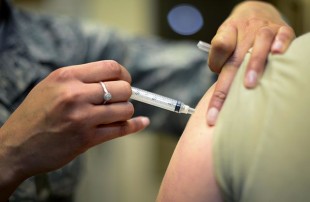 Target: Joseph Biden, US President-Elect
Goal: Do not widen the gap between coronavirus vaccine doses.
Many countries are considering widening the gap between the first and second doses of the coronavirus vaccine in an attempt to use available doses to inoculate as many people as possible with their first dose. Denmark recently approved a longer lag between doses and Germany and Ireland are considering similar moves. President-Elect Biden has committed to 100 million doses of the vaccine being disbursed in the United States during his first 100 days in office. There should be no changes made to how and when the vaccine doses are administered.
Moncef Slaoui, a scientific adviser to Operation Warp Speed-the US disbursal plan for the coronavirus vaccine, said that "the approach some countries are taking of delaying the booster shot could backfire and could decrease confidence in the vaccine." A spokesperson for Pfizer, a company whose vaccine is already being distributed in the United States, said that "two doses of the vaccine are required to provide maximum protection against the disease" and that "there are no data to demonstrate that protection after the first dose is sustained after 21 days." This means that there is no evidence that proves that the vaccine will be effective if the booster shot is not received in the 21-day window.
Sign this petition to urge President-Elect Biden to follow the recommendations of the companies that have developed the vaccines and to not widen the gap between vaccine doses in order to maximize the effectiveness of the inoculation process.
PETITION LETTER:
Dear President-elect Biden,
As you plan to take office, the coronavirus pandemic is undoubtedly front and center on your mind. You have already committed to distributing 100 million vaccines in your first 100 days in office. This is a lofty goal but, if achieved, will greatly help combat the spread of this deadly illness. However, in order for the vaccines to be effective, they must be administered in accordance with the data provided by the companies that developed them. In many cases, this means that a second booster dose of the vaccine must be administered within a certain time period. If the booster shot is not delivered in that window of time, the first shot will essentially have been wasted.
Many countries are considering disregarding the suggestion of the research that a second dose is needed within a certain time frame and are widening the gap between the first and second doses. This change has been made in hopes of having more people receive their first dose. However, the most important thing is that individuals complete their vaccination process. I urge you to follow the research and science and not widen the gap between the vaccine doses.
Sincerely,
[Your Name Here]
Photo Credit: Areca Wilson