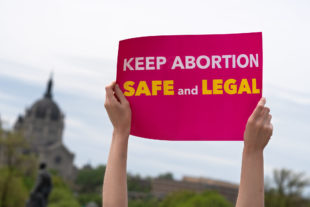 Target: Mateusz Morawiecki, Prime Minister of Poland
Goal: Do not outlaw a woman's right to choose to abort fetuses with life-threatening birth defects.
The Polish government is debating a law that would outlaw abortion even when the fetus is sick, unviable, or of potential harm to the mother. The implementation of this law would outlaw almost all abortion, as the conservative nation has very strict rules around elective abortions. The possibility of the implementation of this law has resulted in the largest protests in the nation since the fall of communism.
Michal Dworczyk, the head of the prime minister's office, said, "There is a discussion going on, and it would be good to take some time for dialogue and for finding a new position in this situation, which is difficult and stirs high emotions. Based on medical data, almost all of the small number of abortions performed legally in Poland occur when a fetus has serious and irreversible birth defects. The proposed law would prevent even these abortions from being legally carried out.
The government is at odds as many were surprised by the scale of public protests. Additionally, while some members of the government support the implementation of the abortion ban, others do not. Prime Minister Mateusz Morawiecki has called for talks with politicians on both sides of the argument as well as protesters. It has been suggested that a new proposal be brought up that allows abortion in cases of life-threatening birth defects, but not for conditions such as Down's syndrome.
Sign this petition to urge Prime Minister Morawiecki to protect Polish women's right to choose to end a pregnancy legally and safely in the case of a fetus with  life-threatening birth defects.
PETITION LETTER:
Dear Prime Minister Morawiecki,
A woman's body is no place for government policy. Every individual should have autonomy over their physical health and safety. Poland is already one of the strictest European nations in terms of abortion legality. Currently, the vast majority of the very few legally performed abortions in Poland occur when a fetus has serious and irreversible birth defects. Being able to abort these pregnancies allows women to prevent the suffering of their child as well as their own emotional suffering.
If the law to further tighten restrictions around abortions is implemented, women would not have the choice to abort these dangerous and traumatic pregnancies in a safe and legal way. I urge you to protect women's right to choose and to not move forward with the implementation of stricter abortion laws.
Sincerely,
[Your Name Here]
Photo Credit: Lorie Shaull