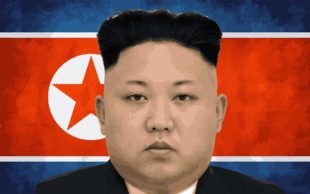 Target: Donald Trump, President of the United States
Goal: Denounce North Korea's parading of massive nuclear weapons.
North Korea recently revealed what experts believe is one of the world's largest ballistic missiles. The weapon was shown at a military parade celebrating the 75th anniversary of the Workers' Party and was broadcast on state-run television. This aggressive show of nuclear power from North Korea comes in the wake of meetings between the nation's leaders and President Trump that were allegedly friendly in nature.
North Korea's newly unveiled weapon was carried by an 11-axle truck, indicating the size of the missile. Analysts do not know whether the missile has been tested, but believe that the size of the weapon would allow North Korea to put multiple warheads on it, increasing its offensive force. Harry Kazianis, senior director of Korean studies at the Washington DC-based Center for the National interest, commented on the weapon, saying: "What North Korea has shown us, what appears to be a new liquid-fueled ICBM that seems to be a derivative of what was tested back in late 2017, known as the Hwasong-15, is much bigger and clearly more powerful than anything in the DPRK's arsenal." The Hwasong-15 was expected to have the range to hit much of the United States mainland. The newer, bigger weapon could, in theory, enable North Korea to target any part of the mainland United States with a single rocket launch.
Sign this petition to urge Donald Trump to denounce the use of nuclear missiles in response to North Korea's show of power.
PETITION LETTER:
Dear President Trump,
Throughout your term as President, you have been developing relations with North Korea. Despite your efforts, North Korea has publicly shown a ballistic missile that would be capable of targeting any part of the mainland United States with a single rocket launch. While you have been able to convince North Korea to stop testing nuclear weapons, there have been no agreements on stopping the development of a nuclear arsenal. You must use your influence with North Korea in the favor of American citizens and denounce the use and development of nuclear weapons.
Sincerely,
[Your Name Here]
Photo Credit: CC0 Creative Commons