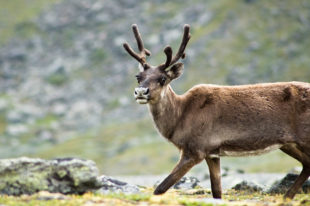 Target: Margaret Everson, Acting Director of the National Park Service
Goal: Resume ban on barbaric hunting practices within federal park lands.
Families of peacefully hibernating bears enticed with the promise of a treat will meet lethal bullets instead. Wolf mothers and their pups will see a light approaching ever closer, not realizing until it is too late that their dens will become scenes of slaughter. Waterways will be filled with the blood of swimming reindeer shot dead by passing motorboats. These sickening scenarios are not outtakes from a horror movie. For America's wildlife, without urgent intervention they could soon become reality.
During the summer, the Trump administration unveiled one of their latest and most destructive reversals of a rule meant to safeguard the country's environment and its wildlife inhabitants. A ban against horrendous hunting practices like those described above took effect in 2015. The ban protected black bears, wolves, coyotes, and other oft-targeted animals from falling victim to inhumane hunting methods. The Trump Department of the Interior has since made it a mission to roll back these restrictions, resulting in the recent reversal that essentially sanctions wholesale brutality on national wildlife preserves. The Interior Department and National Park Service have faced lawsuits from conservation activist groups. Now they need to feel the wrath of an angry public.
Sign the petition below to echo the calls for a reinstatement of the ban on these barbaric, government-sanctioned death traps.
PETITION LETTER:
Dear Ms. Everson,
"Extreme and wholly inconsistent with the Park Service's mission to conserve wildlife and wild places": these words by Defenders of Wildlife strike at the heart of the National Park Service  "overtly sanctioning the killing of defenseless bear cubs and wolf pups in their dens; the exact opposite of what most believe is 'fair chase.'" The public may not fully understand insider terms like fair chase. We do unequivocally understand that we do not want our cherished national parks and wildlife habitats turned into killing fields painted with the blood of defenseless baby animals.
The blasé reversal of a 2015 ban on barbaric hunting practices that slaughter bears, wolves, coyotes, reindeer, and entire families of wildlife is the most shameful act yet of this increasingly politicized, so-called Park Service.  For an agency that counts opening up 150-plus wildlife refuges and fish hatcheries to hunters as one its "accomplishments," the fact that you have topped yourself with this latest violation says a lot. Just imagine for a moment relaxing in your home, perhaps taking a nap, and opening your eyes to the slaughter of your family….the last images you see on Earth being their dying, agonized faces. This is the inhumane fate you have enabled for countless wildlife.
In what could be one of your final acts of office, do the right thing. Restore protections for vulnerable wildlife, ban archaic and barbaric killing masquerading as hunting, and honor your oath.
Sincerely,
[Your Name Here]
Photo Credit: Alexandra Buisse