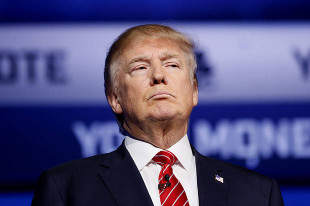 Target: Mitch McConnell, Senate Majority Leader
Goal: Censure President Trump for incendiary and inflammatory comments and behavior during presidential debate.
In a televised debate where the leader of the free world acted more like a preschool bully than the President of the United States, two moments stand out in this spectacle of lowlights. The first came when President Trump refused to condemn white supremacy. The president then took his dismantling of democracy a step further by seemingly encouraging anarchy if the elections results are not in his favor.
"Are you willing tonight to condemn white supremacists?" the moderator asked the president during the debate. By the end of a rambling exchange where he was asked time and again to simply say the words, all Trump had offered was a "stand down and stand by" shout-out to the Proud Boys (a group with a history of violence, anti-Semitic, misogynistic, and generally extremist views). He then diverted by claiming "this is not a right-wing problem"….a belief counter to intelligence assessments he called "wrong."
The "stand by" order, which the Proud Boys quickly and enthusiastically embraced, is particularly troubling given Trump's later encouragement of supporters to show up and "watch the polls," in violation of a clear regulatory process for selecting poll watchers. In the past, domestic terrorist groups like the white supremacist KKK would abuse poll-watching as a well-worn form of voter intimidation. The president followed up by once again casting doubt on the election and refuting a pledge to accept the results peacefully.
As President Trump continues to promote misinformation and dangerous rhetoric, someone needs to be the adult in the room. Sign the petition below to demand the United States Senate honor its oath to the country and finally hold this leader to account through censure.
PETITION LETTER:
Dear Senator McConnell,
"Assassinating the presidency": these are the words Bob Woodward, the man who spent hours interviewing President Trump, used to describe the president's behavior during the first presidential debate. President Trump routinely flouted rules to which he agreed and long-held customs of decorum with almost constant interruptions, increasingly hostile diatribes, and personal insults. Within all the bluster, a dangerous thread of authoritarian impulse and destructive division emerged that cannot be forgotten.
The president, much like he did in the wake of the Charlottesville tragedy, refused to condemn white supremacy…in stark rebuke of his own intelligence agencies' assessment of far-right extremism as a looming national security threat. Worse yet, he directly told one of these groups with a documented history of violence to "stand by." Every day in the lead-up to a crucial election, this president actively encourages civil unrest and reigns doubt and decimation upon the democratic process he took an oath to uphold and protect.
Twitter has shown more vigilance than the United States Senate in holding this president to account for his dangerous rhetoric and false claims. You will likely remain silent and seek diversions, as you have with President Trump's other outrageous public comments and behavior. We implore you to act against this trend, to preserve the integrity of this highest office, and to finally speak out.
Censure this man and show the American people you are beholden not to political power acquired ty selling your souls but to them and their best interests.
Sincerely,
[Your Name Here]
Photo Credit: Rick Wilking