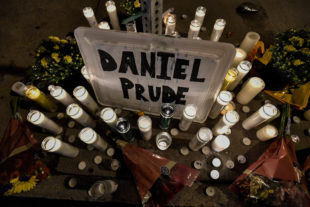 Target: La'Ron D. Singletary, Chief of Police of the Rochester, New York Police Department
Goal: Immediately fire all officers involved in the killing of Daniel Prude and charge them with homicide.
A Black man died of suffocation in Rochester, New York after police officers put a hood over his head and pressed his face into the pavement for two minutes, according to video footage and reports released by family members. The man, Daniel Prude, was removed from life support seven days after his encounter with the cops.
Police initially responded to a call by Prude's brother who reported that Mr. Prude had ran out of his home in an erratic state. According to records, Mr. Prude was hospitalized the day before due to mental health problems. After discovering him without clothes, officers restrained him with a spit hood and pressed his face into the pavement. As stated by the Monroe County medical examiner, he later died of complications related to asphyxiation and physical restraint.
The officers associated with Daniel Prude's death have been temporarily suspended, though not fired or charged. Sign below to demand the officers involved in Prude's murder be fired immediately and charged with homicide.
PETITION LETTER:
Dear Chief Singletary,
Like the countless other unarmed Black men in America, Daniel Prude did not deserve to die. Video footage provides clear evidence that he was experiencing a mental health crisis, and should have been treated as so.
The American people will not stand for this any longer. In order to halt the perpetuation of rampant police brutality and systemic racism, I demand that you immediately fire and charge with homicide the officers involved in the death of Daniel Prude.
Sincerely,
[Your Name Here]
Photo Credit: Adrian Kraus