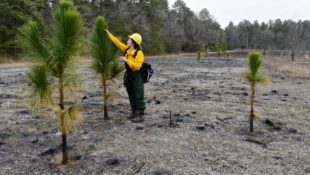 Target: David Bernhardt, Secretary of U.S. Department of the Interior
Goal: Support assisted migration projects that grow forests, create wildlife habitats, and fight climate change.
For centuries, as humanity has developed, plants around the world have suffered substantial losses as a result. The forests that once covered landscapes were chopped away to make way for "progress," hindering the progression of trees like longleaf pines. To give these important climate change combatants and ecosystem cornerstones a boost, scientists have crafted a promising technique called assisted migration.
The natural processes (such as wind) that help seeds travel and generate strong forests take a great deal of time to achieve maximum results. Buildings and roads that mark civilization obstruct and slow this process even further. Assisted migration involves the deliberate planting and cultivation of trees in areas they may not have otherwise reached. Over a much shorter period of time, these tree clusters can develop into forests capable of absorbing carbon pollutants from the air. Better yet, resulting forests can eventually host a diverse range of animals and plants. One recent prominent assisted migration project in Maryland now boasts abundant native grasses, fruits like raspberries and blueberries, and multiple bird and ground-dwelling animal species. Some conservationists even hope that these projects can serve as eventual habitats for the introduction of endangered species.
Assisted migration has faced resistance, but the benefits far outweigh the costs. Sign the petition below to signal your support for these environmental initiatives that are well-worth the time and investment.
PETITION LETTER:
Dear Secretary Bernhardt,
The Adaptive Silviculture for Climate Change project is an assisted migration initiative that has earned the support of multiple Canadian and American environmental groups. Now, this important effort needs your support. With the department's backing, this project could repopulate lands across the country with vibrant forests that add to the natural aesthetic and benefit out diverse wildlife.
Assisted migration gives depleted tree species a needed helping hand in growing their ranks. The results thus far have more than paid off, with native plants and previously shrinking populations of animals returning to once-lost habitats. In the long-term, the critical aid these forests can provide to endangered species and to the fight against global warming will provide rewards much greater than any short-term expenses.
Please invest in the Adaptive Silviculture for Climate Change and similar efforts that can help shepherd a hopeful new era for land and overall environmental conservation.
Sincerely
[Your Name Here]
Photo Credit: Matthew Kane