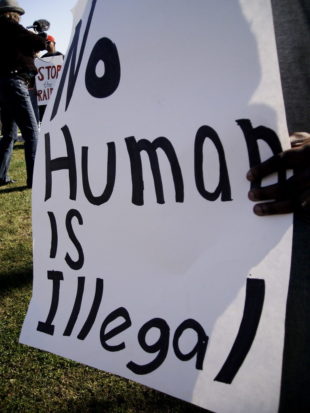 Target: Matthew Albence, Director of Immigration and Customs Enforcement
Goal: End raids on humanitarian aid camps that provide medical services to refugees.
The U.S. Border Patrol raided a humanitarian aid camp on the border with Mexico, arresting undocumented immigrants, confiscating medical documents, and detaining volunteers. This is the second raid in two years of No More Deaths, a religious humanitarian group that provides medical aid to immigrants crossing the Mexican border. Agents trashed the camp as they seized the organization's documents and many of the volunteers' personal phones.
Thousands of immigrants cross the border each year, with significant difficulty getting legal status in the United States. These refugees often go through extreme challenges, like traveling through dangerous areas and facing violence, to get to the U.S. When they finally reach the border, refugees often need temporary shelter, food, and medical attention that humanitarian aid groups can provide. The U.S. has tried to keep refugees out, creating complicated paperwork and requirements that prevent immigrants from migrating legally.
This raid is just another way the U.S. is trying to shut out immigrants from across the Mexican border, this time with a violent scare tactic instead of a legal hurdle. Agents of the border patrol came in armored vehicles and carried rifles, wearing heavy and intimidating military uniforms. This was all just to catch immigrants who had crossed the border illegally. People should not be treated as criminals for trying to get a better life.
Humanitarian aid should be protected, not destroyed. Sign the petition below to demand that the U.S. Border Patrol stop performing raids on aid camps.
PETITION LETTER:
Dear Mr. Albence,
Humanitarian aid camps should not be raided for helping illegal immigrants. Even without legal status to be in the United States, immigrants have a right to medical attention and aid. The actions of the U.S. Border Patrol at the No More Deaths aid camp were unwarranted and similar raids should not be allowed to happen again. Immigrants deserve protection.
These barbaric raids on humanitarian aid stations, of which there have been two in the past couple years, cannot be allowed to happen again. I demand that you prohibit practices like these to protect the safety of immigrants and the work of humanitarian aid groups.
Sincerely,
[Your Name Here]
Photo Credit: Richard Vallejo