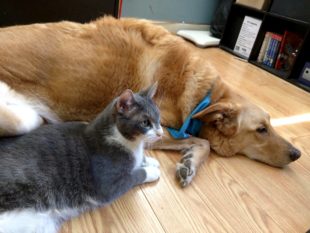 Target: Josh Minkler, United States Attorney for the Southern District of Indiana
Goal: Punish woman who allegedly tortured animals to death and filmed the cruel acts.
A weeks-long investigation by ordinary citizens and law enforcement alike has resulted in an arrest in an alleged horrific case of animal cruelty involving scores of cats and dogs. Sickened social media users first began seeing videos and pictures of someone skinning, hanging, and otherwise brutally killing animals on platforms like Instagram and TikTok. Over the next two months, the person seemingly associated with these atrocities (who had named themselves Crazy Cat Lady) continued posting highly disturbing images of torture and ultimate slaughter.
Determined advocates sought to track down the individual responsible. A subsequent investigation by authorities, who initially believed the perpetrator to be a man in Idaho, led to a 19-year-old Indiana woman's arrest. Krystal Scott now faces charges under both a federal animal crush law and the newly minted Preventing Animal Cruelty and Torture (PACT) Act.
Scott had been suspected by local police of animal cruelty, but they lacked evidence to indict her. When law enforcement obtained a warrant for this woman's dwelling, however, they reportedly discovered the most damning and disturbing evidence. Scott's home allegedly contained multiple skulls and body parts believed to belong to deceased animals. Several living cats, dogs, and lizards were also found and perhaps spared from a grotesque fate. Reports claim that Scott secured animals by answering online ads from people searching for a good home for their pets.
Now that the alleged perpetrator of these unfathomable acts of cruelty is behind bars, sign the petition below to help ensure she stays there for a long time to come, if found guilty.
PETITION LETTER:
Dear Mr. Minkler,
An animal cruelty investigation that spanned from Idaho to Indiana, and across several social media platforms, has finally led to an arrest. Tragically, untold numbers of cats and dogs reportedly lost their lives in the interim. The case of Krystal Scott must be seen through to its appropriate conclusion.
Scott stands accused of skinning, hanging, and slaughtering innocent animals she obtained from unsuspecting online pet owners. Even worse, if possible, she then allegedly distributed these sickening, inhumane acts online for the world to see. Such actions, if they happened as reported, demonstrate a level of depravity and sociopathic tendencies that must be unequivocally condemned.
Please prosecute and seek penalties for these horrifying alleged acts to the fullest extent of the law.
Sincerely,
[Your Name Here]
Photo Credit: Double Compile