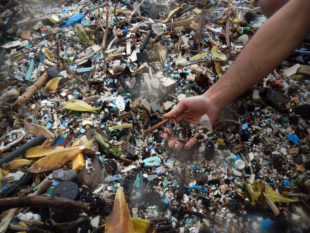 Target: Mary Begier, Vice Chair, Environmental Council, Hawaii
Goal: Clean up Hawaiian beaches destroyed by plastic pollution to protect the rare wildlife that calls these beaches home.
Two Hawaiian beaches have been designated as plastic pollution hotspots, putting their unique and rare environmental diversity at risk. Tern Island and Kamilo Beach have been called out by the Environmental Protection Agency for being "impaired" by plastic pollution. Piles of plastic line the sandy beaches and float offshore.
Hawaii has been ordered to clean up these beaches, after ignoring them for far too long and even discrediting claims of plastic pollution. One of the most popular plastics found along the beaches are microplastics, small plastic beads that choke out wildlife and contaminate waters with toxins. Research suggests that most of these plastics are from the state and not waste from other nations.
The EPA has ordered Hawaii to examine and clean up this pollution. Sign the petition to join them in their demands. Tell the state to finally face realty: plastic pollution is real and it is destroying the state's environmental future.
PETITION LETTER:
Dear Vice Chair Begier,
Two Hawaiian beaches, Tern Island and Kamilo Beach, have been "impaired" by plastic pollution, making them unusable for humans and unlivable for the diverse wildlife that call the beaches home. Plastics large and small float offshore and pile high on the beaches. Microplastics choke endangered species and leak toxins into the earth.
This pollution has gone ignored for far too long. It has been blamed on other countries, but research has shown most of the pollution is coming from within the state. The EPA has demanded that you finally acknowledge and clean up the pollution. I join them in their demands. Bring Kamilo Beach and Tern Island back to life.
Sincerely,
[Your Name Here]
Photo Credit: Gabriella Levine