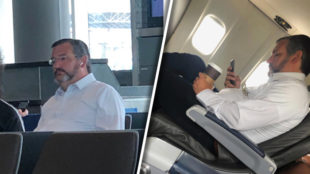 Target: Ted Cruz, U.S. Senator from Texas
Goal: Put a mask on to protect those around you from Covid-19.
Ted Cruz was recently photographed on American Airlines flight, as well as in the airport, refusing to wear a mask. This is despite the fact that his state of Texas is one of the current hotbeds in the United States for Covid-19.
Every scientist working on the Covid-19 says the same thing: the virus is spread through respiratory droplets, and wearing a mask can prevent you from infecting other people because masks restrict droplets from ejecting very far out of a person's mouth or nose. Over many years, masks have been shown to be safe, and in this current pandemic, are essential for saving lives. And yet politicians like Ted Cruz either are either too vain, too selfish, or too ignorant to just wear a mask. Sign our petition to demand that Ted Cruz, and other politicians like him, do one of the easiest and most effective things available to stem the tide of sickness and death, and… just wear a mask.
PETITION LETTER:
Dear Senator Cruz,
Your refusal to wear a mask, and the refusal of other politicians like you, has set a nasty example to your supporters that is costing people their lives. You must know the science is real: wearing a mask significantly reduces the spread of Covid-19. You also must know that wearing a mask has no negative effects on your health. So why are you setting an example that is killing your fellow human beings?
Whether it is right or not, people look to their political leaders to set an example for them, and your example is a bad one. Put on a mask when you're in public and save lives. It's time to stop playing politics and seeking favor with the president, and just put your mask on.
Sincerely,
[ Your Name Here ]
Photo Credit: Hosseh Enad