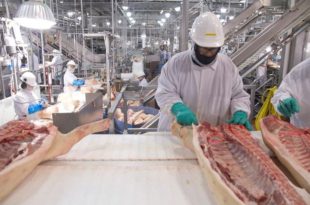 Target: Mandy Cohen, Secretary, North Carolina Department of Health and Human Services
Goal: Investigate and publish possible risky conditions for workers in poultry processing plants.
Workers at North Carolina meat processing facilities are at extreme risk of contracting coronavirus in the company's North Carolina facilities, where hundreds have fallen ill in recent weeks. North Carolina is one of the largest producers of pork and poultry in the county, with the industry providing jobs for thousands of people in rural parts of the state. However, effective safety measures have been hampered by companies unwilling to protect workers and President Trump's order forcing the facilities to remain open despite 36,000 cases of coronavirus among meat workers nationwide.
Meat processing and packing facilities are not required, under state law, to report outbreaks, leaving workers and the public without the necessary information to protect themselves and demand effective safety measures. It is up to the state of North Carolina to require transparency from companies in order to treat and protect workers and their families. Sign the petition below to demand that action be taken immediately.
PETITION LETTER:
Dear Secretary Cohen,
Recently, North Carolina has seen an alarming increase in coronavirus infections due t0 ill-advised reopening plans. Workers at your state's poultry and pork processing facilities have been particularly hard-hit, with no effective protective measures in place and no options offered to stay out of the workplace. Conditions in plants like these, where employees work with raw meat, shoulder-to-shoulder, for hours, are undeniably responsible for the hundreds of new cases there, but employers are not required to disclose infection rates or to adhere to safe working standards.
I demand that you work with Governor Roy Cooper and local health authorities to enforce effective sanitation and protective measures for meat workers in order to safeguard their lives and the health of their loved ones. No one deserves to die or be disabled due to the inaction of the agencies meant to help them.
Sincerely,
[Your Name Here]
Photo credit: U.S. Government Accountability Office