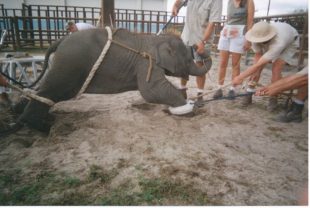 Target: Nigel Mason, CEO of Mason Elephant Park and Lodge
Goal: Stop reported abuse of elephants at a wildlife park.
Captive elephants are reportedly kept in terrible conditions and abused for the sake of making money of tourists who are interested in riding elephants. The Mason Elephant Park and Lodge in Bali, Indonesia allegedly keeps their elephants caged in small areas, often covered in their own urine and feces. The elephants display visible scars and can be seen struggling to reach sources of drinking water, according to an undercover investigation carried out by Lady Freethinker.
Outside of their seemingly prison-like confinement, the elephants lives are not much better. They are made to give tourists rides and reportedly prodded along with bullhooks. They are also apparently made to undergo abusive washing tactics where workers push elephants' heads underwater or use pressurized water guns on baby elephants.
Many elephants in the park display symptoms of psychological distress, like pacing, swaying, or rocking. These behaviors are reportedly indicative of lack of exercise and interaction with other elephants. Mason Elephant Park and Lodge clearly does not value the lives or experiences of the elephants that they seemingly abuse in order to make profit. These majestic animals are known to be highly intelligent and very social, even in the wild. They deserve a better. Sign this petition to urge the CEO of the park to stop these allegedly abusive elephant rides.
PETITION LETTER:
Dear Mr. Mason,
You must stop the allegedly abusive elephant rides that you offer to tourists and visitors at the Mason Elephant Park and Lodge. Elephants should not be made to carry visitors or reportedly prodded along with bullhooks simply for the sake of making a profit. The conditions in which you keep your elephants is questionable at best and seemingly abusive and negligent at worst. These animals deserve to have space to roam and explore, interactive time with other elephants, and gentle care. Instead, it's reported that elephants under your care are kept chained in small spaces, unable to live their lives.
I urge you to stop the inhumane elephant rides and to focus on providing a meaningful life for the elephants in your care.
Sincerely,
[Your Name Here]
Photo Credit: Sam Haddock