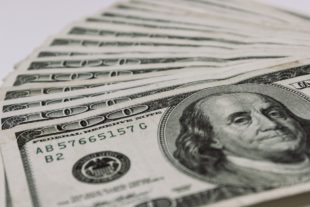 Target: Nancy Pelosi, Speaker of the United States House of Representatives
Goal: Make corporations disclose political contributions on their websites. 
Each year megacorporations in the United States donate millions of dollars to political campaigns that further their own needs. Using their considerable resources in this way gives these companies the power to effectively buy the changes they want to see within the government. These corporations have significantly more spending power than the average American, and because of this, they have substantially more political leverage. This pattern is concerning for several reasons. 
Corporations have a history of supporting bills that skew taxes in their favor, reduce environmental regulations, and endanger the economic lives of millions of Americans by moving jobs overseas. Many businesses will also side with ideologies that put marginalized people at higher risk of discrimination. With the concentration of money in America so skewed towards the top, it becomes difficult for smaller businesses and lobbyists to compete with these monoliths. 
Besides voting, one of the most effective tools citizens have is spending power. Boycotting businesses that adversely affect the political climate is an effective strategy in combating these opposing views. Requiring businesses to display their political contributions in an easily accessible and public way, holds these businesses to a higher level of accountability. It gives the consumer the power to exercise a degree of buying discretion that is less attainable with the current lack of restrictions.
Consumers need to have a public, easily accessible way to know how the money they spend each day is used. Without transparency within political and corporate spending, there is risk of falling further into a world where corporations manipulate the government and the law to benefit them with no concern for the environment and the people around them. Sign this petition and demand more transparency in corporate political spending.
PETITION LETTER:
Senator Pelosi, 
Throughout the last decade, corporations have aggregated a vast amount of this nation's resources. As the gap between the mega-wealthy and the working class grows, the power of these corporations to influence political decisions grows with it. Requiring businesses to disclose their political contributions in an easily accessible way to the public, such as on the businesses' website, would hold that business accountable and give the consumer the discretion to spend their money where they deem fit. 
As it stands now, corporations can funnel money into whatever cause they believe serves them best with little to no repercussions. Consumers in America deserve to know where their money is being spent and companies must be held accountable for the influence they exert on the government. Please pass a bill to further equality within the economy.
Sincerely, 
[Your Name Here] 
Photo Credit: Jean Beaufort