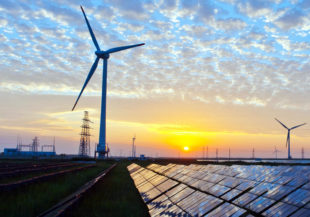 Target: Gregory Wetstone, President and Chief Executive Officer, American Council on Renewable Energy (ACORE)
Goal: Praise historic rise of renewable energy surpassing coal.
The United States is one step closer to leaving dirty coal behind. The use of renewable energy sources has surpassed coal for the first time since 1885, according to a new report from the US Energy Information Administration (EIA). From 2018 to 2019, coal usage declined 15% while solar and wind power rose by 1%. Although this may seem like a small amount, it represents the first positive move away from coal since there were only 38 states.
Coal is uniquely harmful to the environment because of its landscape-destroying and water-poisoning production process, its emissions, and the particulate matter it produces which causes a wide range of diseases including various cancers in animals and humans alike.
Organizations like the American Council on Renewable Energy (ACORE) have spent years tirelessly supporting green energy initiatives and helping spread awareness of renewables among the public. The success of replacing coal with environmentally positive energy sources is a testament to their success and a victory for people who signed petitions like this one. Sign this petition to congratulate ACORE on behalf of all groups and concerned citizens fighting to reverse the damage of climate change.
PETITION LETTER:
Dear Mr. Wetstone,
The success of renewable energy in gaining greater usage than coal is a small but significant victory in the struggle to save our environment and transition to a sustainable society. Even this small success is a promising sign that change is within our grasp, and that organizations like yours are doing vital work to undo centuries of damage.
Thank you to you and your colleagues, along with your fellow green advocacy organizations, for working ceaselessly to end the use of dangerous fuels like coal.
Sincerely,
[Your Name Here]
Photo credit: Kenuone