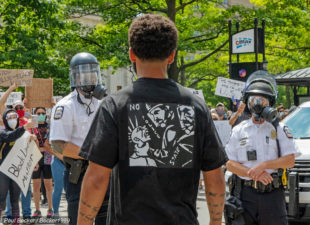 Target: Liz Truss, Secretary of State for International Trade, United Kingdom
Goal: Suspend sales of teargas and rubber bullets for use in violent police actions in the United States.
Riot equipment producers in the United Kingdom continue to sell their wares to United States police departments for use on protesters outraged at the death of George Floyd and countless others. Major sales of rubber bullets, riot shields and helmets, and teargas have netted several hundreds of millions of pounds this year alone. The people of the United Kingdom, along with more than 160 members of parliament, have called on Boris Johnson's government to end the sales, but so far, no change has been made.
The protests, which have spread across the United States in the wake of Floyd's murder, have been met with violence and brutality from police. Even journalists, legal observers, and members of humanitarian organizations have been targeted and shot with rubber bullets, which can be deadly at close range. By continuing to sell the equipment needed to commit these attacks, the United Kingdom is placing profit before human rights. Sign the petition below to demand that these sales be ended immediately.
PETITION LETTER:
Dear International Trade Secretary Truss,
While protesters are beaten, shot, and gassed in the United States, British companies have made significant profits selling the riot gear, rubber bullets, and teargas.What might, in more peaceful times, be seen as normal business has become silent complicity in the violent suppression of free speech and the right to assemble. British companies cannot be allowed to profit off of violence and misery.
I demand that you cease sales of all riot control weapons and gear until the violence has ended and the United Kingdom has had a chance to examine its role in it.
Sincerely,
[Your Name Here]
Photo credit: Paul Becker