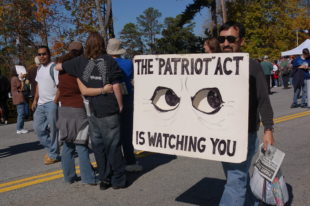 Target: Nancy Pelosi, Speaker of the House, US Congress
Goal: Stop unwarranted digital surveillance of private citizens by the government
While the nation is distracted with COVID-19, the Republican-controlled Senate is trying to erode American privacy rights by enabling widespread government surveillance. A new bill has been introduced that would reinstate the notorious PATRIOT Act, along with other outdated laws that threaten Americans' privacy.
If this bill passes in the House, the government would have full license to conduct unwarranted digital surveillance of private citizens. This is not the first time Republicans have attempted to capitalize on the pandemic to push for unnecessary governmental power. Sign below to tell Congress they must counteract this attempt to erode privacy rights.
PETITION LETTER:
Dear Speaker Pelosi,
The PATRIOT Act was a controversial and unnecessary bill that played an integral role in eroding the privacy rights of American citizens. In this age of advanced technology and the legal ambiguity that surrounds it, it is of the utmost importance that strict measures be in place to prevent the violation of human rights through digital means.
The Senate's reauthorization of the PATRIOT Act is a step in the wrong direction, but the House can still mitigate this risk by considering the amendments suggested by human rights groups such as the ACLU. These amendments, proposed by Senators Mike Lee, Patrick Leahy, Steve Daines, Ron Wyden, and Rand Paul, each offer provisions that would prevent the government from abusing this law and violating citizens' rights.
Privacy is a human right, and it is more important now than ever. I urge you to amend this dangerous bill and prevent unwarranted government surveillance of private citizens.
Sincerely,
[Your Name Here]
Photo credit: Ashleigh Nushawg