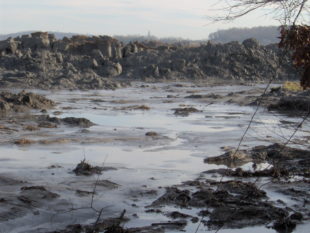 Target: Matthew Z. Leopold, General Counsel of the EPA's External Civil Rights Compliance Office
Goal: Protect residents of Uniontown, Alabama from toxic and dangerous landfill.
Residents of Uniontown, Alabama face daily exposure to coal ash and other toxic chemicals stored in the Arrowhead Landfill, located within a mile of many citizens' homes. Coal ash, a by-product of coal fired power plants, is highly toxic, containing chemicals such as arsenic, mercury, and lead. The landfill also houses contaminated debris, soil, asbestos, and petroleum.
In 2008, more than a billion gallons of coal ash spilled into the Emory River channel in Kingston, Tennessee. Workers who cleaned up the site wore hazmat suits and other protective gear. Regardless, they reported suffering from brain cancer, lung cancer and leukemia due to the exposure to coal ash. The Comprehensive Environmental Response, Compensation and Liability Act labeled the coal ash hazardous in Tennessee. In 2010, however, when the Alabama Department of Environmental Management (ADEM) approved the transport of four million cubic yards of the coal ash to Arrowhead Landfill in Uniontown, it ceased to be labeled as hazardous. It must be noted that Uniontown is a majority African American town.
In 2013, 35 residents submitted a complaint to the EPA's External Civil Rights Compliance Office claiming that ADEM's decision to re-issue a permit to the landfill violated Title VI of the Civil Rights Act of 1964. Title VI prohibits recipients of federal funds from discriminating on the basis of color, race or origin. The claim was issued due to several health and non-health concerns, including interference with sleep, emission of odors, noise pollution, irritation of nose, throat and eyes, dizziness and nausea. Despite evidence, the EPA dismissed the complaint, saying there was insufficient evidence to find violation of Title VI. There have been many complaints since, but no legal action has been taken.
The EPA has a long history of failing to address and enforce Title VI that is in place to protect low-income communities of color against disproportionate exposure to toxic pollution. Sign below to demand the EPA bring justice to the residents of Uniontown by re-considering their complaint and protecting them from the harmful effects of the Arrowhead Landfill.
PETITION LETTER:
Dear Mr. Leopold,
Toxic waste dumps like the Arrowhead Landfill are disproportionately placed in low-income communities of color. The residents of Uniontown have attempted numerous times to seek justice and protection against the harmful exposure to toxic substances.
Coal ash, which can cause several different kinds of cancer, is just one of the extremely dangerous chemicals that are housed in the landfill. Coal ash failing to be labeled hazardous in Alabama is a key example of the extensive violation of Title VI against residents in Uniontown. I demand that you bring justice to Uniontown by accurately addressing their complaint and protecting residents from the dangerous effects of coal ash and other forms of toxic waste from the Arrowhead Landfill.
Sincerely,
[Your Name Here]
Photo Credit: Brian Stansberry