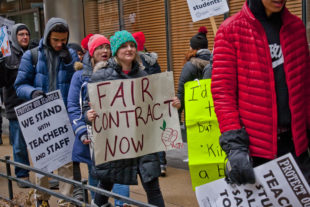 Target: Representative Bobby Scott, Chair of the United States House Committee on Education and Labor
Goal: Establish national protections for teachers' private lives.
Across the United States, teachers are subject every day to judgment and disciplinary measures due to their personal lives and choices. Whether it's a same-sex relationship, personal politics, or simply a disagreement with local policies, these educators must constantly look over their shoulders and cover their tracks very carefully to avoid arbitrary punishments like losing their jobs or being censured or ostracized.
While a great deal of progress has been made in the last 40 years in securing rights and protections for public school teachers, 46 states still offer tenure to teachers after 1 to 5 years. This means that until that period has passed, teachers in probationary positions can be fired without just cause. This flies in the face of laws like the one that forbids discrimination based on gender, sex, or pregnancy.
This has resulted in a clash between federal and local laws that can leave teachers as unprotected as they would be without federal laws in the first place. Philadelphia teacher Margie Winters, for example, was fired after 18 years of faithful service at Waldron Mercy Academy, a Catholic school, when the school's governors discovered that she was married to a woman.
With a national bill of rights for teachers, preventing judgment of and intervention in their private lives, our educators would enjoy the same rights which other citizens take for granted, while ensuring the peace of mind and creativity they need to educate our children and help them flourish. As of yet, no such protections exist. Sign this petition to stand up for the rights of teachers.
PETITION LETTER:
Dear Representative Scott,
While our country has made great advances in civil rights in the past few decades, one of the groups left behind is our teachers. Subjected to wildly varying local laws and arbitrary moral judgments, American teachers live in fear of retribution for their personal choices in private life.
Our teachers and our country need to set clear protections for the rights of teachers as professional educators and private individuals. We urge you, as chairman of the House Committee on Education and Labor, to lead the way in establishing these protections.
Sincerely,
[Your Name Here]
Photo credit: Charles Edward Miller