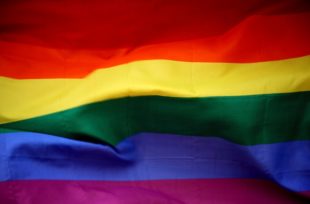 Target: Larry James, Superintendent at Martin County Schools
Goal: Allow students to wear gay pride clothing freely.
Several students from Martin County High School in Kentucky were forced to change their clothes after sporting pro-LGBTQ+ t-shirts to school. Two of the shirts read "Lady Lesbian" and "Queen Queer." A student named Lilly Vance told a local news outlet that those wearing the pieces of clothing were told they were in violation of the school's dress code, while another claimed students even got suspended. "Kids wear political shirts. They wear Confederate flag shirts. I just don't understand what's so wrong with wearing gay pride shirts," Vance explained. "Nothing we're doing is wrong. All we are doing is expressing who we are."
Another student, Madison Harless, posted the school's dress code on social media, which prohibits "obscene or drug-related" clothing, and wrote: "Tell me where in this dress code that it states students can not wear a shirt that represents their sexuality. Two kids were suspended for wearing a shirt that stated 'transgender' and 'lesbian'. While one of my good friends was demanded to remove his shirt for it simply saying 'queer'… It is wrong to disrupt a kid from learning simply because they are embracing who they are. These kids can not express themselves and are isolated by our school because being different is 'wrong'."
Zachary Mills, an additional student, claimed that there is a double standard when it comes to dress code violations. "I don't think it's fair because I see people walking around school with Confederate flags on their boots, hats, shirts, and even belt buckles," he explained. "I hope that we as LGBTQ+ students and people as a whole will be treated equally because right now that's not what it's looking like," said Mills. Sign below to demand that the school stop discriminating against students of different sexual orientations.
PETITION LETTER:
Dear Superintendent James,
Students attending the Martin County High School feel discriminated against after the school showcased its disapproval for the LGBTQ+ community by forcing teens to change their pride clothes, and even suspending them for wearing the garments.
Receiving punishment from an educational institution for simply being yourself is unacceptable in this day and age. Students need to be provided with a safe environment, where they can freely express their sexual orientation without fearing negative outcomes. I urge you to treat all students equally and stop censoring them.
Sincerely,
[Your Name Here]
Photo Credit: Sharon McCutcheon