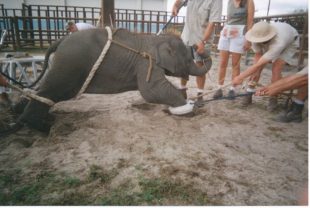 Target: Eleni Kounalakis, President of the California State Senate.
Demand: Ban exotic animals from appearing in circuses in all California cities.
The state of California is currently considering a bill that would prohibit wild and exotic animals from being used in circus performances and other entertainment events statewide. The measure was introduced in the state Senate by Sen. Ben Hueso and was cosponsored by both PETA and Social Compassion in Legislation.
Acts of animal cruelty within circuses have been surfacing at an alarming rate in recent years, exposing the disturbing truths behind the industry. Abused by circus trainers with painful tools, including tight collars, whips and electric prods, the wild animals are forced to perform various unnatural acts and tricks.
Numerous cities and counties in the state, such as Los Angeles, Huntington Beach and West Hollywood have already taken action, passing bans and restrictions on traveling acts using such animals. The passing of the bill would make California the third state to prohibit such cruel acts statewide, after New Jersey and Hawaii.
The successful passing of this bill could influence other states to review current laws regarding animal entertainment and stop unfair treatment. Sign below and demand that California put an end to the animal exploitation taking place in circuses and make it illegal.
PETITION LETTER:
Dear President Kounalakis,
State Senate Bill 313, the measure banning exotic animals from taking part in circuses and other entertainment events, should be passed. In addition to this bill allowing animals to lead the rest of their lives painlessly, it will also reduce future wild animal confinement and abuse.
Years after years, circus animals have been stripped of their freedom, after being taken away from their natural habitats. They are abused by their trainers with harmful devices to perform tricks and kept in cramped cages during transportation. Now, you have the opportunity to change this and provide a better life for these mistreated animals.
I urge you to put an end to the inhumane treatment that this industry has showcased on countless occasions. Please pass this bill and demonstrate that California seeks a better life for the circus animals subjected to abuse.
Sincerely,
[Your Name Here]
Photo Credit: Sam Haddock