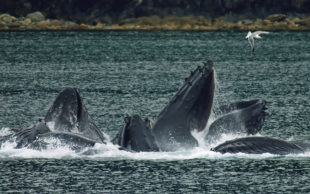 Target: Charlton Bonham, Director of the California Department of Fish and Wildlife
Goal: End crab fishing practices that endanger whales.
Humpback whales are being entangled and killed in crab fishing traps. Due to global warming, humpback whales are migrating farther north up the coast of California. Their new migration channels bring them face to face with the dangerous Northern California Dungeness crab fishing industry. Dungeness crab fishermen trap crabs with crates on the ocean floor; these crates are tethered to buoys on the surface resulting in a deadly latticework for migrating whales. Humpback whales are helpless when they become entangled in the lines that connect the buoys to the crab traps.
Over the last five years the number of whale entanglements has more than tripled. From 2000 to 2014 no more than 10 whales were entangled in crab traps a year. The number of trapped whales shot up to 30 in 2014 and reached its peak in 2016 with 71 entangled whales. Due to marine hot spots connected to the El Niño weather pattern, these numbers have not returned to pre-2014 levels, and according to the Center for Biological Diversity, these numbers are expected to increase. As long as global warming forces humpback whales into Northern California, it is imperative that Dungeness crab fisherman stop setting traps that could kill them.
Please sign this petition to demand the state of California require Dungeness crab fisherman to move out of waters used for humpback whale migration.
PETITION LETTER:
Dear Mr. Bonham,
Global warming has transformed the migration channels for Humpback whales, forcing them into territory used for Dungeness crab fishing. Dungeness crab fisherman use ocean floor crab traps tethered to floating buoys on the ocean's surface. This creates a deadly latticework that unintentionally traps Humpback whales off the coast of Northern California. California's Dungeness crab fishermen claim the whales are impossible to free after they have been entangled, as the whales sustain permanent and usually deadly damage to their bodies while trying to escape.
From the 2000s to today the number of whale-entangling incidents has increased by 300%. In its worst year so far, 71 whales died while entangled in crab lines in 2016. This is a significant increase in deaths for an endangered species, but as Kristen Monsell of the Center for Biological Diversity points out, even "one entanglement is unlawful under the Endangered Species Act." While these climate conditions continue, Dungeness crab fishermen cannot be allowed to endanger the lives of humpback whales. I demand that you require the crab fishing industry to stay out of waters used by migrating whales.
Sincerely,
[Your Name Here]
Photo Credit: JJ Ron