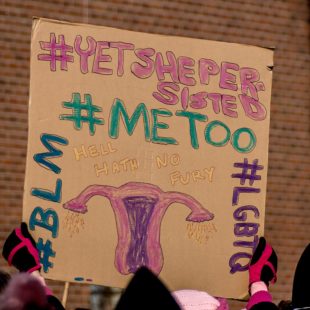 Target: David Stirrat, Principal of Petaluma High School
Goal: Publicly apologize to graduate for silencing her speech about preventing sexual assault.
Valedictorian Lulabel Seitz was silenced by her school district during her graduation speech when she attempted to bring up the subject of sexual assault. A victim herself, Seitz attempted to raise awareness of many issues such as wildfires and racism, but her mic was reportedly cut the moment she mentioned her experience of being assaulted. Despite her peers shouting for the faculty to let her continue, Seitz was forced to return to her seat.
This is a blatant example of how rape culture silences victims. The school was perfectly willing to listen to Seitz speak of other issues, but allegedly censored her when she made the effort to speak out against rape and sexual harassment. According to Seitz, the administrators of the school reportedly "warned her not to speak against them in her speech," and made good on their warning when she attempted to defy them. Worse, the authorities allegedly refused to act when Seitz reported her assault months ago.
This is exactly the behavior that the #metoo movement is fighting to eliminate, but it seems the more people speak out about their experiences, the more eager people are to force them back into silence. Petaluma High School owes Seitz an apology for allowing this to happen. Sign this petition to ensure that they not only apologize, but that they never again silence a student who attempts to speak out.
PETITION LETTER:
Dear Principal Stirrat,
Your alleged censoring of Lulabel Seitz at a recent graduation ceremony was deplorable and the very definition of rape culture. Not only did you reportedly silence any discussion of how to help victims of sexual assault speak up, you silenced Seitz's own attempt to speak about her experience with sexual assault earlier in the year. Additionally, Seitz alleges that the school did nothing to investigate the incident or punish her assailant.
In an age where people are finally feeling brave enough to come forward and discuss their painful experiences with rape and sexual assault, censoring victims is the worst thing anyone can do. This holds especially true for a school, which is responsible for not only the education, but the safety and well-being of the students. You owe Seitz a public apology and your school must promise to never again silence any student who speaks about stopping rape culture or their own experiences.
Sincerely,
[Your Name Here]
Photo Credit: Marc Nozell