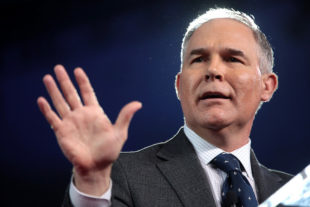 Target: Scott Pruitt, Administrator of the Environmental Protection Agency
Goal: Investigate the harmful effects of asbestos.
Nearly 15,000 Americans die every year of asbestos related illness and disease. Asbestos is common in many pipes, tiles, and households built in the last 100 years and is known to be a carcinogen. However, President Trump has called asbestos poisoning a "mob-led conspiracy" and the EPA just announced they would not record data on the effects of buildings that already have asbestos in them, only checking on new buildings with asbestos. This action is vehemently unacceptable, especially to those who are directly affected by asbestos poisoning. We need to do better for our country's infrastructure and that begins with building maintenance and evaluation.
Scott Pruitt's EPA quietly rolled out an announcement that detailed their plan to leave all the buildings with asbestos alone and only focus on any new buildings with plans to install asbestos materials. The agency now refuses to record any data on previously existing asbestos cases, which is unacceptable considering the high fatality rate with asbestos. Stand with us in declaring the EPA needs to do better for our citizens.
PETITION LETTER:
Dear Mr. Pruitt,
The recent actions of the EPA regarding rules for buildings with asbestos are absolutely ludicrous and should be scrutinized as much as possible. Removing protections from asbestos buildings is one of most dangerous orders you could sign for American workers. Asbestos poisoning is one of the leading causes of death in the workforce and you are choosing to ignore any cases that might support this declaration?
There will be much shame brought upon the EPA if they do not take the measures to reverse this deadly decision at once. Stand with the American people for once and properly investigate the harms of asbestos, before we harm anyone else.
Sincerely,
[Your Name Here]
Photo: Gage Skidmore