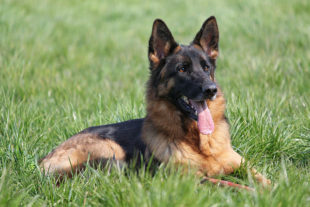 Target: Paul Tiernan, Chief of Police, Newark, Delaware
Goal: Fire police officers who allegedly ran over two dogs and shot one of them.
In Delaware, fifteen police officers and animal control reportedly spent 90 minutes chasing after two loose stray dogs near a busy intersection. Officers decided that they were on pursuit for too long and allegedly decided to take it into their own hands and run over both dogs. A German Shepherd and pit bull were both allegedly struck by the vehicle. Both dogs were reportedly severely injured, however, the German Shepherd was able to run away while the officers allegedly shot the helpless pit bull multiple times.
The Newark Police Department released a statement after the alleged incident occurred stating the dogs "were aggressive towards the officers by sprinting towards the officers, baring their teeth, growling and foaming at the mouth." This report was denied by two witnesses who work at a local SPCA. They said that the dogs were terrified and weren't behaving aggressively, they were just running away from the officers who had taser guns. This wouldn't be the first time that law enforcement has abused their power. Demand that these officers be fired for their alleged reckless actions.
PETITION LETTER:
Dear Mr. Tiernan,
Officers from the Newark Police Department allegedly took it upon themselves to target and run over two stray dogs. These stray dogs were reportedly running away from these officers for 90 minutes, when they were allegedly hit with a car. Although this aggressive act did not kill the dogs, they were both severely injured. After the alleged  heinous animal abuse, the German Shepherd was able to run away, but the pit bull wasn't as lucky. This poor animal was allegedly shot multiple times.
Two witnesses agreed that the dogs were not aggressive at all. They were simply terrified by the officers and animal control, which was why they were running away. Running over these animals and shooting one of the dogs is an act of animal abuse. We demand the officers involved be fired for their alleged actions.
Sincerely,
[Your Name Here]
Photo Credit: Ronoli