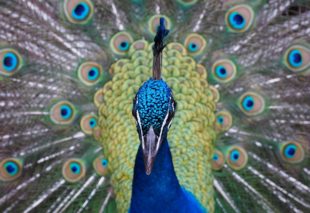 Target: Linda Hepner, Mayor of Surrey, British Columbia in Canada
Goal: Demand sanctuary and protection for Canada's feral peacock population.
A group of feral peacocks in a Canadian community were recently robbed of their home. Local man Parminder Brar, tired of the birds' screeching, cut down a tree in which they'd built a nest. The flock was forced to take up residence on his roof, sparking outrage among his neighbors. Worse, this is the second home the birds have lost, as the farm on which they originally resided was shut down in 2009.
While Brar may thankfully face a fine for taking matters into his own hands against public safety's wishes, this does not solve the issue of where the birds can live. A roof is hardly a safe space for them. They are vulnerable to predators and possibly humans who may try to capture or shoot them. Furthermore, community opinion is split down the middle over whether the flock should be allowed to stay. Some residents find them irritating, while others consider them a mainstay of the community.
Regardless of whether or not the birds remain in the neighborhood, they need a proper home where they can live free of risk from outside dangers. Sign this petition to demand the community find these birds a safe haven as soon as possible.
PETITION LETTER:
Dear Mayor Hepner,
A flock of feral peacocks is in dire need of a safe home after the tree in which they were residing was cut down. This is the second home these birds have lost since 2009. They currently rest on a roof, which may leave them vulnerable to hunters or predators.
You must find a safe, proper home for these peacocks as soon as possible. It is said that the community in which they currently reside is completely divided on whether or not to let them remain, and if the general consensus deigns to get rid of them, you must ensure that the flock will have somewhere else to live peacefully right away. If the birds are allowed to stay, you must ensure that their next permanent habitat will be properly protected. Wild animals need safe habitats, especially in this day and age. Do not let these peacocks be jeopardized.
Sincerely,
[Your Name Here]
Photo Credit: sia7