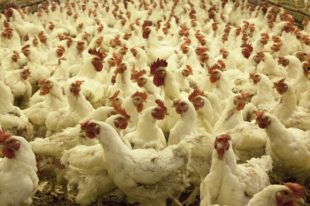 Target: U.S. Secretary of Agriculture, Sonny Perdue
Goal: Stop Trump administration's attack on the right of animals on organic farms to be outdoors.
Activists are still disappointed over the U.S. Department of Agriculture's recent decision to scrap an Obama-era rule meant to improve living conditions for animals on so-called "organic" farms. Formerly known as the Organic Livestock and Poultry Rule, this rejected proposal would have provided organically-raised livestock and poultry with daily access to the outdoors. On top of expanding the amount of living space for animals, practices such as de-beaking and cow tail removal would have also been banned. To the dismay of many, the USDA sided with large-scale farms adamant about keeping costs low.
Evidence shows that organic farms aren't always what they're made out to be. Regardless of meat and dairy products labeled as FDA-certified organic, some of the animals themselves undergo extreme abuse or harmful bodily modifications. Past investigations have shown organic milk-producing cows chained to their stalls covered in feces, hens crammed in windowless farms, blatant physical abuse, etc. Keeping in mind that the FDA called extra precautions ¨unnecessary¨ based on current guidelines, public outcry should prompt them to reconsider their backwards decision. Enough with the deception.
PETITION LETTER:
Dear Mr. Perdue,
In March, your government agency rejected a proposed rule that would have improved the lives of millions of farm animals across the United States. What the Organic Livestock and Poultry Rule tried to accomplish were distinctions between organic and industrial farming. Oftentimes there aren't any differences in terms of animal treatment. Consumers are misled into believing that meat or dairy products are organic, when in reality the animal suffered immensely. Even though they might not be filled with pesticides or drugs, many products come from animals that were either confined to claustrophobic spaces, deprived of seeing the light of day, or even had some of their body parts removed for the sake of ¨efficiency.¨
Organic consumers are being deceived and this is unacceptable. Your agency's refusal to end these practices makes organic farms no better than industrial slaughterhouses. Animals deserve more liberties if their products are going to be labeled as FDA-certified organic, whether that means access to pastures or more living space. Chickens shouldn't be confined to living alongside other birds in microwave-sized crates for the entirety of their lives. Not only isn't that organic — it's morally deplorable. Please expand upon your definition of ¨organic¨ before certifying food products as such.
Sincerely,
[Your name here]
Photo credit: Creative Commons CC0