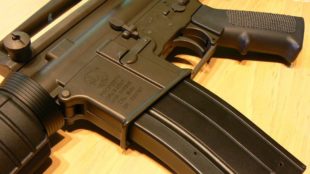 Target: Mitch McConnell, Senate Majority Leader
Goal: Overturn Trump proposal to sell American weapons to countries across the world.
Donald Trump is the only sitting president who has ever acted as a personal salesman for the military defense industry, specifically for Boeing, who is America's largest weapons manufacturer and second largest defense contractor. Usually sitting presidents stay out of the business side of the military and focus instead on military action in times of war, however, Donald Trump is doing his best to sell the rest of the world American weapons.
Trump plans to roll out a "Buy American" initiative, which seeks to loosen the rules of weapons export, making it easier for foreign countries to purchase American weapons, legally. The U.S. has long had a problem with supplying other countries weapons that wind up in the wrong hands. Enacting this law would only further that problem and attach our name to even more international tragedies. Tell Donald Trump to back down on the sales act and sign the petition below demanding he rescind this proposal.
PETITION LETTER:
Dear Senator McConnell,
You are one of the only people in power to create legislation to stop Donald Trump's devious plan aimed at arming the world with American weapons. American guns have found their way in too many war-torn countries, for the wrong reasons. If we want to stop the bloodshed of innocent people, one way to reduce those numbers is to limit the weapons we ship overseas.
Donald Trump is a businessman first and foremost, he does not care about the people in this country or others, otherwise he would never pass this initiative. Please stand on the right side of history and stand up to the Commander in Chief to tell him we have had enough of the barbarianism.
Sincerely,
[Your Name Here]
Photo Credit: IIIBlackHartIII